Kids in Prison: Getting Tried as An Adult Depends on Skin Color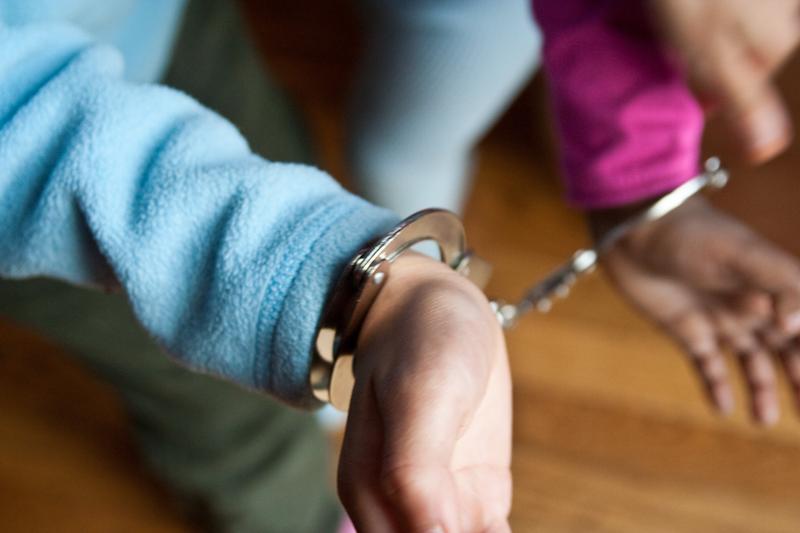 When Jamal was 14 years old, he wore the same outfit to school everyday and went without meals at home. One day he went walking around Union, N.J., looking for a way to get money.
"I seen a guy and I had a gun on me so I robbed him," Jamal said. "I carjacked him for his car keys and I robbed him for his wallet, phone and money and stuff like that."
Jamal never shot the gun, but he did point it at the guy he robbed. He was tried as an adult and sentenced to nine years in an adult prison.
"My record as a juvenile kept showing violent crimes, so I guess they just got tired of me," Jamal said. 
Kids who commit certain crimes in New Jersey, like robbery, drug trafficking or homicides, can be tried as adults. Their mugshots and criminal records are made public and they face the same, long prison sentences as adults.
But getting "waived up" into the adult system won't happen unless a prosecutor requests it. And according to an analysis by the WNYC Data News Team, most of their requests are for black kids, like Jamal. 
(All this week WNYC is exploring what its like to be a minor in an adult prison. You can find our full series, Kids in Prisons, here).
Black Kids Tried As Adults More Than Any Other Group
"My public defender kept saying I was OK, because I was too young to get waived up. I was 14," Jamal said. "Then she said they're talking about waiving me up, and that's when everything changed .... But I didn't think I was going to come to prison."
All the young inmates in this story were advised by their advocates or lawyers to only speak with WNYC if we agreed not to use their names.
Data obtained from the New Jersey Administrative Office of the Court shows Jamal is one of 692 minors tried as adults in the past five years. The youngest were 14 years old when they were charged, and almost 90 percent of them are black or Latino. 
Not all minors transferred into the adult court system were found guilty, and not all went to prison. But if they did get a prison sentence, they were sent to adult prisons.
In Prison for Crimes They Committed as Minors 
The New Jersey Department of Corrections denied requests for data on the number of juveniles who have been sent to their adult prisons in the past five years.
In an email, a spokesperson wrote: "Because of the way we classify inmates, the best way we can respond to your question is to select a date and provide a snapshot of the number of juvenile inmates housed by the NJDOC on that date." 
The WNYC Data News Team went through state records of every person who is currently in a New Jersey prison, and isolated those who were minors on the date they committed their crime. Here's what we found:
At least 152 inmates are still in prison today for crimes they committed as kids in the past five years
93 percent of them are black or Latino
The most common crime they committed was robbery
20 percent of them have sentences of 10 or more years
2 are female inmates
Who Decides to Try Kids As Adults?
Two people decide whether kids get tried as adults: The prosecutor in each county has to request it, and a judge has to approve it.
WNYC found some prosecutors make requests more than others. And in some counties, like Passaic, judges are twice as likely to approve requests for black kids than for white or Latino kids. 
The prosecutor in Hunterdon County hasn't asked to try a single kid as an adult in the past five years. He's the only prosecutor in the state who hasn't, and the juvenile population in Hunterdon is 80 percent white. 
"There are obvious disparities and gross disparities in the exercise of discretion to seek a waiver," said Laura Cohen, the director of the Criminal and Youth Justice Clinic at Rutgers Law School. 
Cohen says national research shows white kids commit the same "waivable" offenses as black kids, but prosecutors just don't ask to try white kids as adults at the same rates.
"Controlling for nature of offense, controlling for family background, controlling for educational history — all of the things that go into a prosecutor's decision, there are still disparities, significant disparities, that cannot be explained by anything other than race," Cohen said. 
As of March 1, 2016, minors in New Jersey can no longer be sent to adult prisons. Kids who are convicted as adults have to at least start their sentences in juvenile facilities. And they can stay there well into their twenties. But minors can still get prosecuted as adults, which means minors can still get permanent, adult records and adult sentences — which are longer than juvenile sentences. 
Do You Become an Adult at Age 18?
Vincent Schiraldi, a Senior Research Fellow at the Program in Criminal Justice Policy and Management at Harvard University says there's nothing natural or biological about the age of 18 that makes you an adult. And Schiraldi believes even young adults should be protected from adult records and adult consequences.
"They're less mature than fully mature adults, they're more susceptible to peer pressure, they're more volatile in emotionally charged settings, they're less future oriented, and all of that stuff matters from the standpoint of committing crimes," Schiraldi said.
But Laurence Steinberg, a professor of psychology at Temple University and the former Director of the MacArthur Foundation Research Network on Adolescent Development and Juvenile Justice says juvenile prisons cost more money than adult prisons, because they offer a lot more services.
"A lot of violent crime is committed by people between the ages 17-21 and if you were to transfer all those individuals in to juvenile system, just by sheer numbers alone, you would overwhelm that system," Steinberg said.
Starting in August, 16-and-17-year-olds in New York state prisons — not jails — are supposed to start being transferred out.
New Jersey's new law is not retroactive. So all the young people who are in adult prisons right now will stay there. When Jamal arrived at age 15, he said prison guards taunted him.
"They'll say stuff like, 'Oh, look, these effing juveniles, this, that and the third, they want to be tough, now they're at a big boy prison, let's see how tough they really is," Jamal said. "They'll say stuff like, 'We'll take care of you here,' this, that and the third. 'Ain't no cameras,' and stuff like that." 
Minors are housed in a unit away from adult inmates until they turn 18. Jamal recently turned 18. 
"So I still feel kind of young," he said. "And now I'm seeing people 30 and stuff walking right next to me, we're all in prison."
Tomorrow we take you behind the bars of a New Jersey prison — and prisons in Germany, which advocacy groups pointed to as a system with better outcomes for young people. Later, we explore New Jersey's sentencing laws for minors, which are harsher than other states, and show you how corrections officers are trained. You can find our full series here.