The Takeaway
Paris Officials Launch Manhunt for Possible Suspect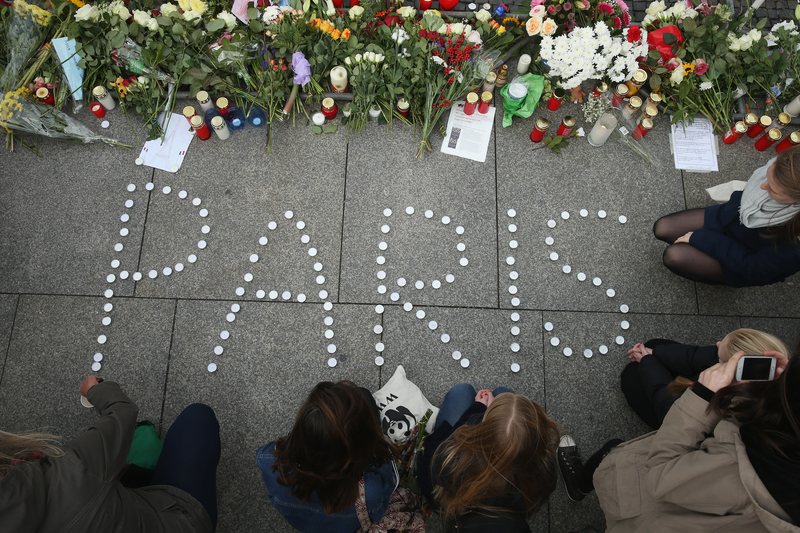 Updated 1:29 PM Eastern, November 15, 2015:
A series of attacks in Paris dealt France its deadliest blow in decades. The Paris prosecutor now says three teams of attackers were involved in the assault which resulted in the death of 129 people and more than 350 injured. Now a manhunt is underway for a suspect who may have managed to escape.
French authorities have issued a wanted notice with a picture of a 26-year-old man, identified as Abdeslam Salah.
French police release photo of Abdeslam Salah, man sought in connection with #ParisAttacks https://t.co/HqFV3ROb3s pic.twitter.com/hK2SWgSey5

— BBC Breaking News (@BBCBreaking) November 15, 2015
Earlier Sunday, French officials said that several Kalashnikovs have been found in an abandoned car in the eastern Paris suburb of Montreuil.
The car is believed to have been used by some of the Paris attackers suggesting some of the attackers got away.
Officials have also identified the first of the seven dead attackers as Ismail Mostefai. Six people close to Mostefai are in custody.
Several weapons found in abandoned car in Paris suburb, supporting theory that some #ParisAttacks gunmen escaped https://t.co/HqFV3ROb3s

— BBC Breaking News (@BBCBreaking) November 15, 2015
Prosecutors also said Sunday that two of the attackers lived in the Brussels area.
President François Hollande on Saturday blamed ISIS for the terrorist attacks calling the near-simultaneous acts that killed more than 120 people an "act of war."
"It is an act of war that was committed by a terrorist army, a jihadist army, Daesh, against France," Hollande said from the Élysée Palace, using an Arabic acronym for the Islamic State. "It is an act of war that was prepared, organized and planned from abroad, with complicity from the inside, which the investigation will help establish."
ISIS on Saturday claimed responsibility for the deadly attacks and called them "the first of the storm." The terror group released the claim in multiple languages, in the same channel in which it claimed responsibility for the crash of a plane over the Sinai Peninsula carrying Russian tourists two weeks ago.
Friday night's shootings, bomb blasts and a hostage siege left at least 127 people dead and more than 180 wounded.
Six places were targeted, almost simultaneously. Hollande declared a state of emergency in France and imposed border controls.
Most of the victims came from an attack on the Paris Bataclan concert hall, where gunmen were holding an unknown number of hostages. French police stormed the hall, killing the four Bataclan attackers, authorities said. A Syrian passport was found on one of the assailants, and the AP, quoting a Greek officiai, said the shooter had entered Greece last month.
President Hollande mobilized at least 1,500 troops across the country, Germany offered a special anti-terror unit to help and Belgium reported arrests in Brussels. Friday's strike was one of the deadliest attacks in a Western nation since the Sept. 11, 2001 terror strikes on the US and the deadliest attack on European soil since the Madrid train bombings in 2004, in which 191 people were killed.
Gunshots & explosions heard in mobile phone footage at Bataclan; around 100 dead in attack https://t.co/cM4vcwGVZB https://t.co/xpFqMiFSDI

— BBC Breaking News (@BBCBreaking) November 14, 2015
Shortly after the police raid on the Bataclan concert hall, Hollande traveled to the site and said France will fight the attackers "without mercy."
"We will lead the fight," he said. "It will be ruthless."
By early Saturday, police announced that all the Bataclan attackers had been killed.
There were at least five attacks across the city. Here is a map of the locations of the attacks:
On Saturday, Parisians cleaned their blood-soaked streets. People searched for missing relatives. The line at one hospital to give blood was three hours long on Saturday afternoon.
Paris-based reporter Jake Cigainero told PRI's The World that two shooters opened fire on a restaurant called Le Petit Cambodge, then holed up in the theater where they held the hostages. An eyewitness in the theater said the attackers were shooting for at least 15 minutes, reloading their guns three times.
Related story: World shows its support for France after deadly attacks
Police called the concert venue "a scene of apocalypse," according to Cigainero.
Hollande canceled his upcoming trip to Turkey for the Group of 20 summit and will hold a meeting with his defense council on Saturday morning.
France, which had been on heightened alert since the terror attack on the offices of the Charlie Hebdo satirical magazine in January, had further upped border security in preparation for the UN summit on climate change, scheduled in Paris less than three weeks from now. More than 100 world leaders are expected to attend.
From the White House, President Barack Obama condemned the attackers. This, he said, was "an attack not just on Paris and not just on the people of France, but this is an attack on all of humanity and the universal values that we share."
"We're going to do whatever it takes ... to bring these terrorists to justice," he said.
Watch the full statement from @POTUS on the attacks in Paris. https://t.co/yQThOvrdxZ

— The White House (@WhiteHouse) November 13, 2015
"These are a lot more coordinated, a lot more sophisticated than we saw during the Charlie Hebdo attack," Vivienne Walt, a Paris-based correspondent for Time, told PRI's The World.
Photographer and filmmaker Shane McMillan was in his apartment in the 11th district when the shootings broke out outside. He told PRI's The World that he saw at least 10-15 people injured.
"I can't tell who's wounded and who's not," he said. "Everyone has blood on them."
On social media, Parisians are posting their addresses using the hashtag #PorteOuverte for those who need shelter in Paris. On social media, people and organizations around the world are also offering support.
This story originally appeared at PRI.org and was written by Kierran Petersen and James Edwards. Contributing reporters included Anne Bailey, Joyce Hackel, Lizzy Tomei, Isis Madrid, Steven Davy, Angilee Shah, Jeb Sharp, David Beard and Matthew Bell.