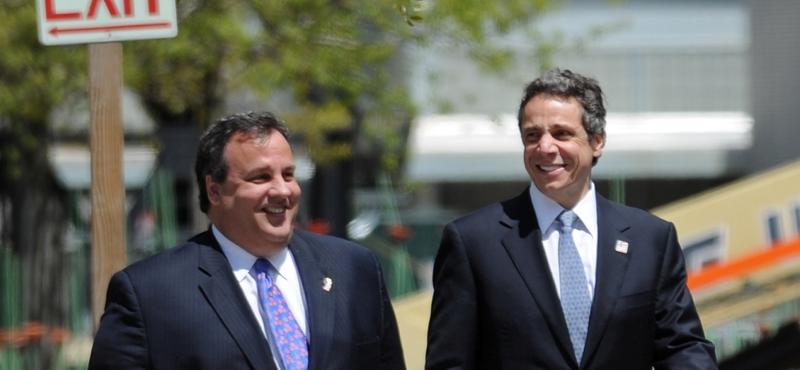 Five months since a four-day traffic jam on the George Washington Bridge blossomed into a political scandal, we have now arrived at the point in the arc of the Port Authority story where a council of elders has gathered to ponder its fate.
Exhibit A is U.S. Sen. Charles Schumer, who is always Johnny-on-the-spot on the hot topics of the day. Last week he called together a group of city leaders — gray-haired men in gray suits, most of them — to deliver a seven-point Port Authority reform plan.
"The Port Authority has come to be seen as the proverbial honey pot, a cookie jar, a rainy day fund – whatever metaphor you prefer – for state projects outside the Port's core mission," Schumer lamented.
In the same week we heard Port Authority board members describe the bi-state agency as "infiltrated by a creeping dysfunction" and a place where "something serious is wrong." Thanks to a certain traffic jam in Fort Lee, the public is a lot more aware of what's seriously wrong at the Port Authority: corruption, conflict of interest, mission creep.
What Bridgegate has exposed is a long drift away from the job of running the Hudson River crossings and area airports and seaports. Founded in 1921 by an act of Congress, the bi-state agency, once a proud sponsor of modernist marvels like the George Washington Bridge and John F. Kennedy International airport, has run aground in a political swamp.
For all the attention they've garnered, the lane closures in Fort Lee masked a more serious phenomenon: that Christie had been using the Port Authority as his political piggy bank, ordering up billion dollar projects here and airport takeovers there in a way that would boost his re-election numbers and a potential 2016 campaign for President of the United States.
This kind of behavior didn't start with Christie, or New Jersey, or Republicans. New York Gov. Mario Cuomo was the first to hit on the idea that the Port Authority was a big, untapped pot of money. Cuomo did a "swap payback on the Aqueduct racetrack and generated at that time what seemed like a lot of money: $86 million," Chris Ward, the former Port Authority Executive Director, said in a speech to a planning organization.
Schumer was careful to think of something nice to say about Christie and about Andrew Cuomo — the current governor, and former Gov. Mario Cuomo's son — who is also Christie's partner in running the bi-state agency. Schumer, too, said the problem goes back a couple of decades.
"Over the years, the 'honey pot' mentality has turned the Port Authority into a 50-50 operation between the two states," he said.  "That has killed the ability for Port Authority to think big and act big."
If that all seems abstract, consider this: The Port Authority is so encumbered with local projects that the central terminal at La Guardia airport, called overcrowded and outmoded when Ed Koch was New York City mayor, still hasn't been renovated. Even the food courts at La Guardia date from the last century.
The first item on the agenda, over which there is near-universal agreement, is that having a deputy director for New Jersey is a bad idea. The position was created by former New Jersey Gov. Christine Todd Whitman, in reaction to New York Gov. George Pataki's pick to be executive director — a former conservative party political boss with no management or transportation experience.
And the New Jersey deputy director, the job infamously held by Bill Baroni in the Bridgegate scandal, reported to the board, not to New York's executive director.
"It was an inherently corrupting decision," former Port Authority Executive Director Ward in a speech, because it brought an administrator in as a "political watchdog answering political questions of what's good for New Jersey" instead of someone who was managing for the sake of good management.
So axing the deputy director position is first on the reformers' list. They also agree that the Port Authority board should actually vote and debate and present its budgets in public — which it started to do last month. The first time the board tried it, it mistakenly took the vote before the discussion, and then had to rescind the vote in order to get things in the proper order.
But at least the board is trying. Governors Andrew Cuomo and Chris Christie? Not so much. Their best idea seems to be to break up the authority, which would conveniently give each of them to ability to jam their hands into an $8 billion honey pot, without any interference from the other.
Just last week, Christie unabashedly put forward his view of the Port Authority, which was that it should spend more money in New Jersey. "I've argued all along that New Jersey was not getting its fair share of money for appropriate New Jersey projects," he put forth.
By appropriate he means "really important projects like the Pulaski Skyway, like Route 440, like the WhitPenn Bridge," none of which are owned or operated by the Port Authority. But they do relieve the New Jersey state transportation budget, which means Christie didn't have to raise the gas tax to pay for those really important projects.
Senator Schumer sees his mission in historical terms — to redraw the Port Authority compact and bring it back to Congress, as U.S. Sen. Walter Edge of New Jersey did when the last century was fresh, the progressive era was in full swing, and starting the Port Authority seemed like the best thing you could do to advance good government and take the politics out of transportation and infrastructure building. 
"Who had heard of Walter Edge?" Schumer said, departing from his prepared remarks. "I hadn't, and I'm a student of history."
David Wildstein had heard of Walter Edge. When he operated as a supersecret blogger, before his supersecret stint at the Port Authority, he named himself after him: Wally Edge.
In both his roles, Wildstein thrived because no one was paying attention and few people cared. Now maybe, just maybe, that's changed.