Immigration Courts Could Get Even Busier Under Trump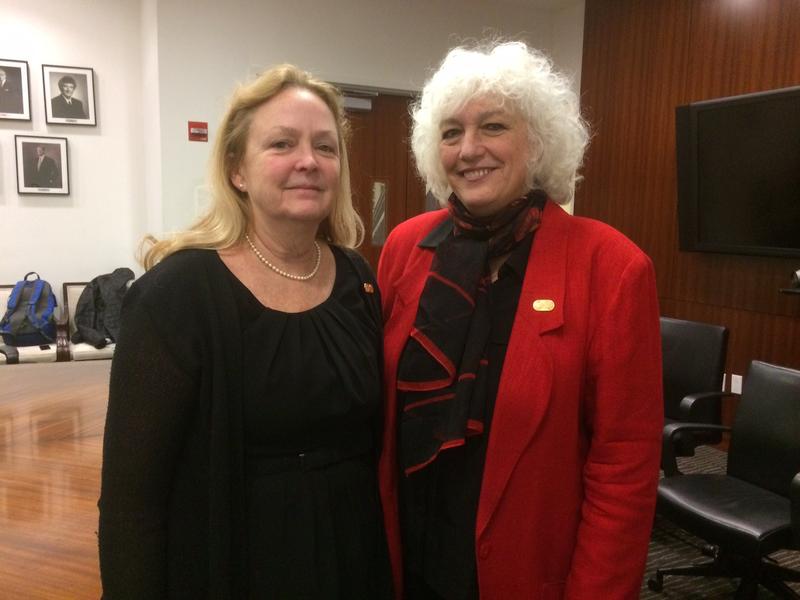 President Donald Trump's administration dismissed a report Friday by the Associated Press that it considered mobilizing as many as 100,000 National Guard troops to round up unauthorized immigrants.
But there's no doubt the administration is giving signals that it plans to arrest and deport more people. And that's on top of the January 27th travel ban that is still being litigated. 
Two days earlier, on January 25th, Trump signed another order dealing with immigration, which got much less attention. This included his plan to build a wall along the Mexican border, and hire 10,000 more immigration officers.
But it also included new priorities for who the government can detain and seek to deport. Under President Barack Obama, immigration agents focused mostly on arresting immigrants without legal status only if they had criminal convictions. But Trump's executive order gives agents the power to detain people who are only suspected of violating state and federal laws, along with those who engage in fraud by abusing any public benefits.
With this order, the Trump Administration is setting up the possibility to deport even more people than Obama, who deported about 2.5 million immigrants — more than any other president. But legal experts warn the system isn't able to handle more volume without a significant infusion of resources.
"When everything is prioritized, then nothing is a true priority," said Dana Marks, a San Francisco judge speaking in her capacity as president of the National Association of Immigration Judges, the union for these federal employees.
The nation's immigration courts already had more than half a million pending cases in late 2016. New York City has the third busiest courts in the nation. Another 200,000 new cases were entering the system each year under Obama.
With only 300 immigration judges for the entire country, lawyers and judges describe a system in crisis. Most people in immigration court also don't have lawyers. (Although New York City is unusual because it provides free attorneys for people in detention.)
In addition to needing more judges, Marks worried about what will happen when — and if — more people really are detained. The Trump administration recently made detained cases the first priority for immigration courts.
"Before we can have more detained cases, you need to have more detention space," she said. There's an expectation that the government will enter into more contracts with private prison operators. If more people are held in detention, Marks predicted the government will have to install special video teleconferencing equipment in all the immigration courtrooms. This way, judges who normally don't handle detention cases (including those in the Federal Building in Lower Manhattan) can do them remotely.
Will these scenarios come true? Marks said that's up to lawmakers on Capitol Hill.
"Congress holds the purse strings," she said. "It remains to be seen whether the appropriators will be cooperating with the executive order, or whether they will decide that it is too expensive to implement and they want to change it and handle it in a different way."
But there's already tremendous fear in immigrant communities, following a recent spike in arrests. There were 680 arrests last week, including 41 in New York City. Similar spikes occurred during the Obama Administration. But by the end of Obama's presidency, those arrested with criminal records fell to 10 percent. By contrast, 25 percent of the people arrested last week did not have criminal convictions.
Any impact of Trump's order has yet to show up in the courts. According to the Executive Office for Immigration Review, which runs the immigration courts, 24,802 new detention cases were entered in January, 2017 compared to 22,292 in January, 2016. The next few months will provide a fuller point of comparison.