Why New York's Immigration Courts Are Overwhelmed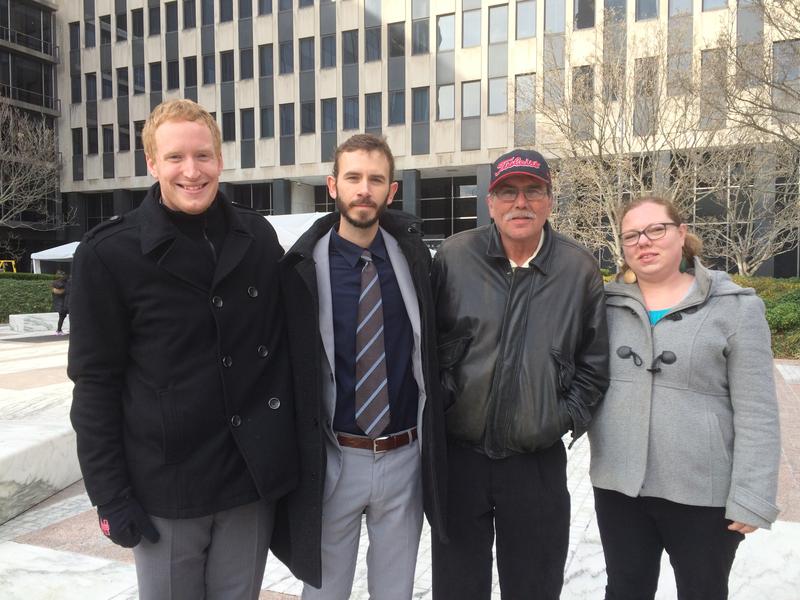 In March of 2014, federal immigration agents arrested Piotr Bilanicz at the house he shares with his mother in Yonkers. 
"Five o'clock in the morning, six police officers, like, surrounded [the house]," he recalled. "Two in the driveway, two come up to my room, two outside - waiting outside. And they just brought me down to Immigration."
A year earlier, in 2013, Bilanicz was convicted of possession of crack cocaine. It wasn't the first time. He's had a total of six arrests for possessing small amounts of crack cocaine and four for petty theft; the last arrest for possession was in 2014. But because he's a green card holder, Bilanicz was suddenly in danger of deportation, even though the 57-year-old had lived in New York ever since his family immigrated from Poland in 1964. 
Bilanicz was shocked to find himself at risk of being sent back to a country he hasn't seen since he was five, and where he doesn't have any family. "I'm not a felon or nothing like that, never got caught with firearms, never assaulted anybody," he said.
But while President Barack Obama has said the nation's limited immigration resources should focus on removing "felons, not families," those priorities he laid out in the fall of 2014 also include immigrants convicted of misdemeanors. This wide net of convicted criminals, plus a shortage of judges, has contributed to massive backlogs throughout the nation's immigration courts.
Behind the Backlog

More than 525,000 immigration cases are currently pending, according to Syracuse University's Transactional Records Access Clearinghouse (TRAC). Nearly 70,000 of those are in New York City alone, making it home to the nation's third busiest immigration courtrooms after California and Texas. Not all respondents have criminal records. Many crossed the border illegally; others don't have proper documentation.
This is why experts say it's hard to imagine Donald Trump deporting more criminal immigrants than Obama. "I think this administration already takes a fairly broad view of who is a criminal," said Paul Wickham Schmidt, who was an immigration judge in Arlington, Virginia for 13 years.
Trump has claimed there are two to three million undocumented immigrants with criminal convictions. The government has said that number is actually just below 2 million and includes non-citizens who are in the country legally (like Bilanicz), as well as undocumented immigrants. 
The government has put more resources into immigration enforcement. But Schmidt said it hasn't done enough to help the court system meet the growing demand. There were fewer than 300 immigration judges for the whole country last year, and they were hearing more than 220,000 cases. Schmidt said even 100 additional judges would barely keep up with incoming cases, let alone the backlog.
"If you start doing the half million cases that are pending then you're going to fall behind on the incoming cases," he said.
The staffing of judges is run by the Executive Office for Immigration Review. Spokeswoman Kathryn Mattingly said the office "constantly monitors its caseload nationwide and shifts resources to meet needs in the most efficient possible manner. This includes temporarily detailing judges and staff, and using video teleconferencing, when appropriate." 
Judges have also complained that the government fast-tracked unaccompanied minors and families from Central America and Mexico who crossed the border in a "surge" a couple of years ago. These recent arrivals got priority over immigrants who had been waiting years for their hearings or trials, leading to bigger backlogs.
The New York Courts
Here in New York, there are 28 immigration judges working in the Federal Building on Foley Square in Lower Manhattan. On the same day that Bilanicz had his deportation hearing, WNYC visited a courtroom where Judge Amiena Khan was hearing new cases.
More than 30 were scheduled between the morning and early afternoon. The immigrants were from Albania, Russia, India, China, and Latin America. Those without lawyers would ask for new dates. But the majority had lawyers and quickly addressed the government's charges. The judge then scheduled additional court dates, for status checks or individual hearings on the merit of their claims to remain in the country. Some planned to apply for asylum.
The whole process took about five minutes for each case, and Khan was scheduling future court appearances as late as August of 2018. This isn't so bad given, that Schmidt said he was scheduling hearings for 2021 before retiring last summer. But one lawyer in court that morning, Shihao Bao, agreed the system couldn't possibly handle more cases unless Trump wanted to "take away due process." 
In the state of New York, the government filed 20,193 deportation cases in Fiscal Year 2016, according to TRAC. Most were charged with immigration violations, like entering the country illegally or overstaying a visa. Less than 7 percent, or 1,239, had criminal convictions of any type — a percentage that's been gradually dropping.
Making the Case
Bilanicz had his hearing on December 6th. His attorney, Conor Gleason, was asking for cancellation of removal/deportation, which is a form of judicial discretion. Gleason argued that Bilanicz's convictions were for misdemeanors connected to drug abuse, and that he's been sober since he completed a drug rehabilitation program in March of 2015.
"In my opinion, Piotr is the model classic example of what cancellation of removal is for in terms of the second chance," he explained.
He also argued that Bilanicz's deportation would cause him great harm, because he's been on disability since a heart attack in 2011 and has a pacemaker.
"I think it's one of the greatest examples of hardship that I've seen in any client I have had," he said of Bilanicz. "He sees the same doctors every 90 days. He needs to maintain the ability to see those doctors. To be deported to Poland, he won't have access to that type of medical help."
Gleason claimed deporting Bilanicz would also have a devastating effect on the man's 84 year-old mother, who's a naturalized American citizen. Bilanicz lives with her and takes care of her many medical needs.
The 9 a.m. hearing was held on the 12th floor of the Federal Building, in a small courtroom with dark pink carpeting, a Department of Justice seal and an American flag. Gleason told Judge Patricia Rohan that his client was "extremely repentant" for the crimes he'd committed and that "he is truly rehabilitated from his condition" of drug addiction. He brought a certificate of completion from a substance abuse program and 10 toxicology tests. 
An attorney for the government, Adrienne Yasunaga, called those efforts toward rehabilitation "commendable," but "relatively recent." She also argued that Bilanicz "remains a danger to society" because of his criminal record.
But Judge Rohan ruled in favor of Bilanicz. As she cancelled the deportation order, she told him, "this is the only chance you get."
Afterwards, Bilanicz stood outside with his little defense team and celebrated by lighting a cigarette. "I feel great," he said.
His social worker had come along and so did a law school student who had straightened out his back taxes.  
Bilanicz was very lucky. Unlike many people in immigration court, he had a free public defender. Gleason is with Bronx Defenders, which is a partner in the New York Immigrant Family Unity Project. It's a city-funded program in which public lawyers represent immigrants facing deportation (though unlike Bilanicz, most are in detention centers).
Gleason said immigration cases are very tough, which is another reason why they take so long. He submitted 329 pages of evidence in Bilaniciz's case, including 12 letters of support from family members with legal status in the U.S., medical records and research on the Polish healthcare system. "It's a lot of work and it takes a team," he said. 
The final hearing took place two and a half years after Bilanicz was arrested by Immigration and Customs Enforcement agents. As he left the Federal Building, Bilanicz called his mother in Yonkers. It was still early, around 10 a.m.
"Everything's over, Mom," he told her. 
Bilanicz said he was relieved and eager to move on with his life. In addition to gaining sobriety, he said his brush with deportation taught him another lesson. The rest of his family became naturalized American citizens after moving to New York in the 1960s. But Bilanicz never bothered to take the test.
"I should have became a citizen years ago," he said, with a hearty laugh.
He still can. In early January, the government declined to appeal the judge's decision to cancel the deportation order. Bilanicz can apply to become a citizen in 2019 and never again face the risk of deportation.