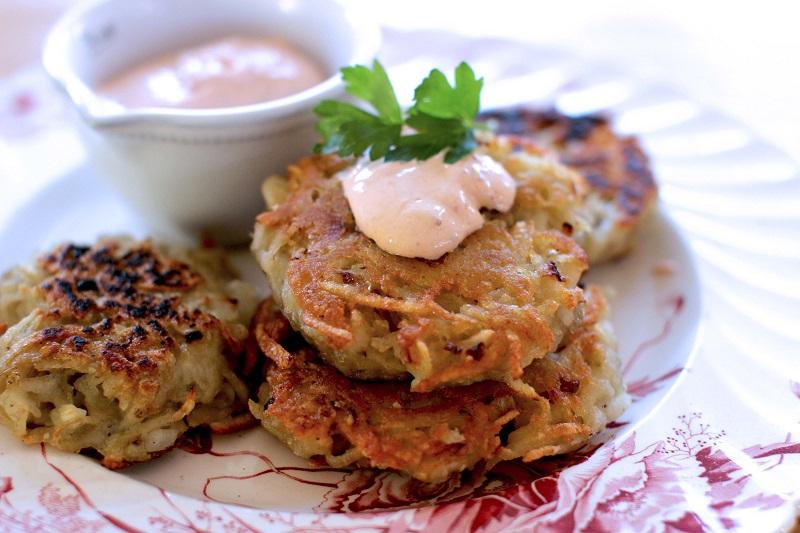 We asked you to submit the recipes that make your holiday meals special. New York Times food columnist and cookbook author Melissa Clark picked her favorites, and we're sharing some of the recipes here! 
Baccala Salad
2 pounds of baccala
Olive oil
Lemons (at least 2)
Garlic (several cloves)
1/2-3/4 cup of Kalamata or cured black olives 
1/2 cup capers
1/2 cup diced parsley black pepper, red pepper flakes to taste
At least 1/2 cup of flat Italian parsley, chopped
Soak dried cod for at least 3 days, changing water daily. After soaking, change water then boil on stove until fish flakes with a fork. Drain and cool. In a large bowl break baccala into bite size pieces, removing silver skin as needed. Toss with at least 1/4 cup of olive oil. Add several sliced cloves of garlic, juice and sliced rinds of lemons and, a handful of olives and rinsed capers. Let sit in refrigerator over night. Before serving add celery, chopped parsley black and red pepper flakes and more olive oil if needed. Submitted by: Karen Luce
"Tortierre (Laura Secord Canadienne)"- Grandmaman's Christmas Eve Meat Pie 
Ingredients
1/2 lb ground beef 
1 lb ground pork 
1 small onion 
1 clove garlic...minced 
1/4 tsp. celery salt 
1/4 tsp black pepper 
1/4 tsp ground sage 
1/2 tsp thyme
pinch cloves  
1/2 cup of boiling water
Cook on low heat until 1/2 of water evaporates. DO NOT BROWN. About 30 mins. 
In the meantime, boil and mash 3 medium potatoes. 
Mix potatoes into meat mixture. 
Make pie crust dough (or purchase it). 
"The dish was meant to be one large pie. However, one Christmas I was sick and so we ended up making empanadas because my young girls could do that more easily. From then on... it has always now been a French Canadian Meat Empanada!" 
Bake 350 degrees for 15-25 minutes. Submitted by: Jennifer Wagar
Ravioli
"My mom never had a recipe. She made it the way her mother did and probably her mother before her. She would get up early on Christmas morning before any of us. On the kitchen table she'd create a volcano of flour and add two eggs in the crater. Then she'd probably add a pinch of salt and maybe a dash of water and mix it up, then roll it out. Then she'd put it in the pasta maker. The key to delicious ravioli is thin dough. Then it would melt in your mouth."
"The filling she changed over the years. My favorite was spinach, Parmesan cheese and bread crumbs. Those would get mixed up and rolled by hand into a long almost sausage like consistency. Then she pinch off pieces and place them in a long line down the thin stretch of dough. Then she'd pick up one end and fold it over the fillings. Then each filling had to be carefully pressed on each side before using the zig zag slicer that formed the individual pieces. As children we were made to wash our hands and squeeze each individual piece around the edges so it wouldn't come undone in the cooking process. There it would sit, on a white cloth, laid out on the dining room table, until it got a bit hard. My sister and I always counted them and speculated on how many each of us would eat in one sitting.
"Then as dinner time approached my mother would fire up a big pot of water. As soon as it was gently boiling, she'd slide giant platefuls of ravioli in the water. The finished product would practically melt on your mouth. She served it with tomato sauce. Often with mushrooms. Then the next day, she'd make a ravioli soup using chicken broth. That was my father's favorite."
Galbi jjim (Korean braised short ribs) 
"Galbi jjim is typically served on traditional holidays and special occasions in Korea. Compared with typical western braising method cooking, Koreans do not sear the meat before braising them.The ribs are first boiled in water which is a parboiling technique that will help remove excess fat and blood from the ribs." 
Ingredients
3 pounds meaty beef short ribs
1 large yellow onion
3 -4 thin ginger slices 
5 garlic cloves
3 scallions
10 ounces Korean radish, cut into large dice (about 1-1/2-inch cubes)
3 – 4 dried shiitake mushrooms, soaked and quartered
2 carrots, cut into large chunks (about 1 inch long)
6 – 8 peeled fresh chestnuts
6 – 8 dried Korean dates/jujube
10 – 12 gingko nuts, or 1 tablespoon pine nuts for braising sauce
**Marinate sauce 
1/2 cup soy sauce
4 tablespoons maple syrup or Jo Chong ( Korean rice glucose )
2 tablespoons honey
1/4 cup Soju ( Korean Vodka) or Mirin
2 tablespoons of sesame oil
1/2 medium Asian pear, grated (about 1/2 cup)
1/2 small onion grated
1 tablespoon minced garlic
1 teaspoon grated (or juiced) ginger
1/2 teaspoon black pepper
 ** Cooking Directions**
1.Trim off any excess fat. Rinse the ribs and let them sit in cold water for about 1 hour to draw out excess blood. Drain. In a large pot (5 or 6 qt), bring 4 cups of water to a boil with ribs. 
2. Bring it to a gentle boil, uncovered. Skim off the scum on the top. Reduce the heat to medium and cook for 30 minutes. Remove the ribs, reserving the stock. Strain the stock and skim off the fat and save some for simmering time.
3. Marinate boiled rib with marinate sauce for an hour ( longer is better, sometimes I leave overnight in refrigerator) 
I place the marinated ribs with braising sauce in preheated pot, saute little bit with prepared vegetables ( Onion, ginger and garlic) then add small amount of water.
4.Once boiled, add 1-1/2 cups of the stock and reduce the heat to medium low and simmer for 1 hour. Stir in the vegetables, and add Chestnuts ( Can be substitute with aasian sweet potato or kabocha pumpkin), dates, pine nuts, and gingko nuts ,continue to simmer, covered, for about 20 minutes.simmer until meat is tender. However adjust the heat level and cooking time, depending on how tender you want your ribs to be and how much sauce you like to have. Use medium low heat and additional time for more tender meat with more sauce. Likewise, you can increase the heat to medium to reduce the sauce quicker. Also, leaving the pot uncovered during the last 10 – 20 minutes gives the ribs a nice sheen.
5. Sprinkle with the thinly chopped scallions and sesame seed on top of ribs before serving. 
Recipe submitted by Min Choi