Jane Fonda After Death and Divorce
Wednesday, June 18, 2014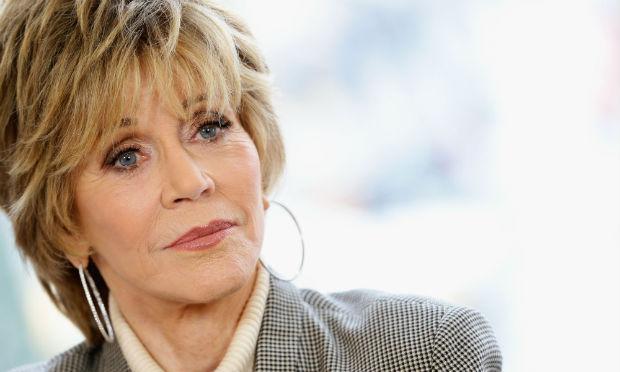 (Vittorio Zunino Celotto/Getty)
What do you think of when you think of Jane Fonda? The sexy space traveller from Barbarella? Vietnam War activist? Fitness goddess? Fonda, now 76, has had quite the career. She's also had three marriages — to a French director, an anti-war activist, and the billionaire Ted Turner — and each ended in divorce. When she found herself newly single at 62, she felt whole for the first time. Now, she says she'd disappear into a monastery before getting married again.
After seven years of celibacy, she started dating her current boyfriend, music producer Richard Perry, when she was in her seventies. With him, she's discovered a mature kind of intimacy and a new role as caretaker. He's living with Parkinson's, and she's learning how to help.
She's also working more than ever. She just published a relationship guidebook for teenagers calling Being a Teen. She's writing a novel. She continues to act. Next summer, she reunites with her 9-to-5 costar Lily Tomlin in a new Netflix series about two divorced women finding their way late in life. The American Film Institute honored her with a life achievement award this year.  
Busy as she is, Jane Fonda took time to talk to me about her mother's suicide when she was a girl, her father Henry Fonda's long decline, and the lessons she learned by choosing to be alone.
INTERVIEW HIGHLIGHTS
Finding out about her mother's suicide:
We found out through magazines how she killed herself, and we never were told by anybody in our family that she did. And no one ever mentioned her name again. So it was like a huge emptiness....I just got together with my brother three days ago, and he and I made a pact that we're going to Ogdensberg, New York, where she is buried, and we are going to kneel at her tombstone and we're going to plant things and clean it up and pray for her. And we're going to do it together....We both feel we owe it to her. When she died, I was 12. He was 10. No one ever mentioned her again. So we want to make up for that.
Sexual confusion in her teenage years:
Nothing seemed normal. I didn't get my period until I was 17....I actually did think that maybe I was supposed to be a boy....I used to get a mirror and sit in such a way that I could look at my vagina and try figure out if maybe it wasn't supposed to be a penis. I just, I didn't know what I was looking for. I didn't know what was supposed to be there. I didn't know what was normal. I didn't feel any of the things that my girlfriends seemed to be feeling.
Feeling whole after her divorce from Ted Turner:
I moved into my daughter's house in Atlanta. I was all by myself, which after Ted, the silence was deafening. And I remember standing in the middle of this little bedroom that didn't even have a closet. I'd been living in 23 kingdom-sized estates, flying in private jets. Now I had a rented car and a room with no closet. And I stood in the middle of the room, in tremendous pain, with sadness that the marriage hadn't worked, and yet there was also this voice that said, I'm okay. For the first time in my life, I do not need a man to be whole.
Jane Fonda and then-husband Ted Turner in 1990. (Tony Duffy/Getty)
Sex gets better with age:
I think that when a woman is older, sex is better. Partly because she doesn't give a fuzzy rat's ass anymore, you know? She's not out there on the marketplace anymore. She knows her body. She knows what she wants. She's less afraid to ask for it. If it doesn't work out, so what?
Read a full transcript of the interview, and hear a bonus excerpt of Jane Fonda talking about reuniting with her 9-to-5 co-star Lily Tomlin for their new Netflix comedy.
Jane Fonda recently spoke at TEDxWomen about living in this age of unprecedented life expectancies:
In 1972, Fonda spoke out at a rally in protest of the Vietnam War:
And for a certain generation, Jane Fonda might be most well-known for her workout videos:
Music Playlist

Take a Ride - Death, Sex & Money Theme

Artist:

The Reverend John Delore and Steve Lewis