De Blasio Removes Firm Overseeing Sandy Rebuilding Program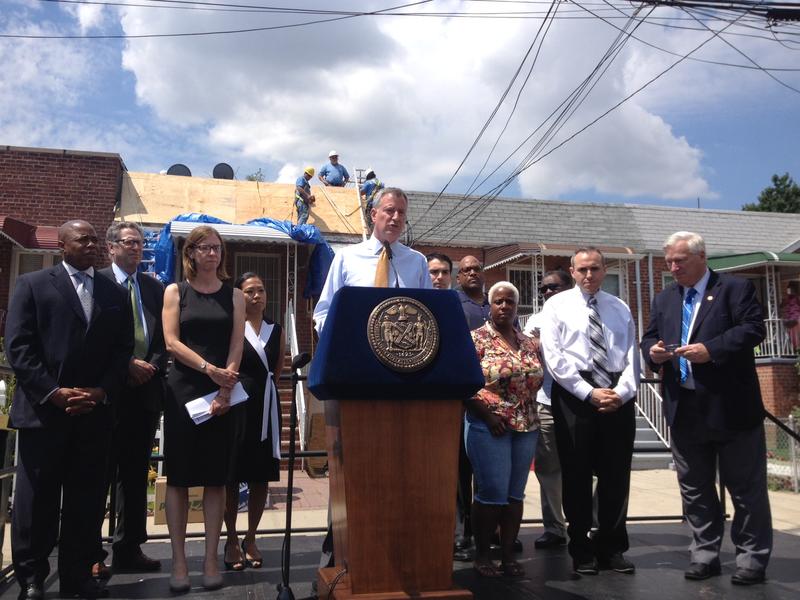 The company supervising New York City's troubled program to rebuild Sandy-damaged homes was removed from day-to-day operations in the winter, according to a city official who spoke on condition of anonymity.
The step was part of a series of changes Mayor Bill de Blasio has taken to exert more control over the Build it Back program, which has been run by a group of five companies hired last summer under the Bloomberg administration
The lead company, Public Financial Management, is a Philadelphia firm best known for municipal finance consulting rather than disaster recovery. According to its contract, its role was to communicate with the city and oversee the four other companies, including the San Francisco-based URS Corp., which employed the customer service representatives that took in homeowners' forms.
The official, who was not authorized to speak publicly, said Public Financial Management was not being penalized for poor performance, but instead had been replaced by senior city staffers in an effort to streamline the process. Numerous homeowners complained that the program had lost their forms and the first repair job did not get underway until March, nine months after the PFM-led consortium received its contract.
The company stood to gain $4.2 million over two years, according to the contract. The official added that it has not been determined how much PFM will get paid.
"We're currently finalizing contract changes that will keep their subcontractors on board, part of the broader review of contracts underway," the official said.
A spokeswoman from PFM, Sandra Sosinski, referred all questions to the city.
On Thursday, de Blasio also said that he had put senior city staff directly in each of the four Build it Back intake centers around the city and was hiring 44 new Buildings Department staff members, including 21 inspectors. The extra staff will be paid for out of federal disaster recovery funds.
"Every one of those centers is being held to a single high standard," de Blasio said at a news conference outside a home in Canarsie, Brooklyn, that is being repaired by the program. "People come in. They get answers. They get action."
The new hires were part of a plan to increase city staff in the Housing Recovery Office, which oversees the Build it Back program, by 35 percent, to 105 employees. That has increased the ratio of city employees to outside contractors. Before the changes, just about 77 members of the program staff worked directly for the city. By comparison, a city spokesman said in March, 270 employees were working for the five private companies.
The mayor also announced Thursday that construction had begun on 132 homes. That is just one-third of the way towards a goal he announced in April of getting 500 repairs underway by Sept. 1. But he said he was confident he would fulfill his promise.
"A lot of energy is being put into it, a lot of personnel is being put into it, but the pace has sped up with every passing week," he said.
 UPDATED:  This article has been updated to reflect a response by PFM.