SchoolBook
De Blasio Launches Formal Campaign for Pre-K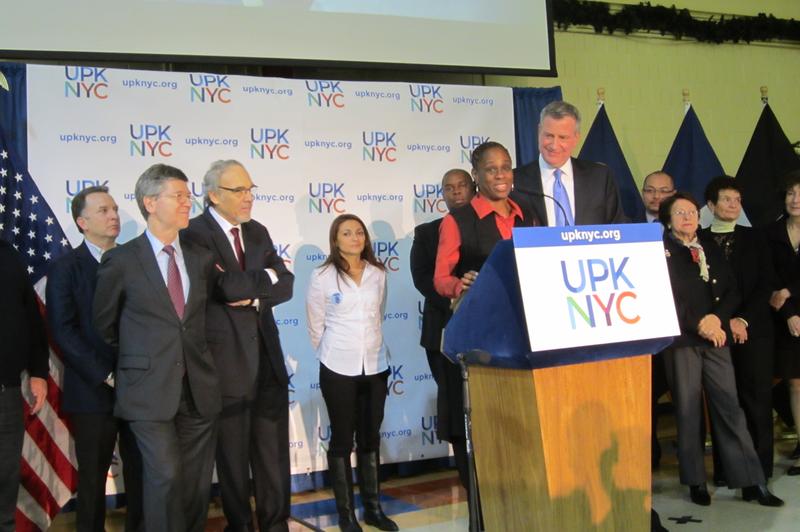 Mayor-elect Bill de Blasio is moving ahead with his pledge for universal pre-kindergarten, by announcing a formal campaign with its own website and a coalition of backers.
It's called UPKNYC and the mayor-elect unveiled its first video at the childcare center Friends of Crown Heights. He was surrounded by children's advocates from several organizations, as well as the economist Jeffrey Sachs—who is among several luminaries lending his name to the cause. Rev. Al Sharpton, actress Cynthia Nixon and former Treasury Secretary Roger Altman also joined the coalition, but were not present Thursday.
De Blasio called the effort a "grassroots campaign."
"This is gathering together as many people as possible," he said. "Getting them to reach out to their state assembly members and state senators. Building the kind of momentum that typically is what wins in situations like this."
The video shows young children in tender close-ups at childcare centers, and is narrated by de Blasio's wife, Chirlane McCray. When asked about her role in the campaign, she said, "There's no official role but I'm going to help out in any way I can."
De Blasio joked that the sound of her voice would have a "hypnotizing effect" on lawmakers.
The ad was sent online to more than 10,000 New Yorkers. The coalition also launched a fund-raising campaign, and says it will disclose all donors.
Albany Republicans have balked at the prospect of raising taxes on those making over $500,000 a year to support de Blasio's plan. But the mayor-elect said a tax increase is the best way to ensure a steady stream of revenues for his five-year plan. Sachs, the economist who now leads Columbia University's Earth Institute, chimed in.
"It will require investments year after year to ensure continuity and excellence in the city's education efforts," he said. "As such the program will need a long-term reliable means of financing by New York City residents for New York City's children."
De Blasio's plan calls for providing full-day pre-K seats for an extra 50,000 children, plus grants to support afterschool programs for approximately 120,000 middle school students between the hours of 3 and 6 P.M. It was developed when he was public advocate.
Together, they could cost more than $500 million a year. When pressed for details, such as how many teachers are needed, and where the city will find enough space, de Blasio said those are still to be determined by a working group. The state has strict requirements, too, that need to be followed.
However, he said it's possible to start finding seats in the fall of 2014 if Albany acts in the coming session.
Meanwhile, de Blasio said he expects to name a new schools chancellor "soon." He said he hasn't had trouble finding candidates and no one has turned him down.
"It's never gotten to the point of an offer," he said, adding that he considers the decision very important. "I'm not going to jump too soon to make sure our children are served, one of whom will be my own child in fact."