Updated: Christie Friend Escapes Jail Time on Bribery Charge for 'Chairman's Flight'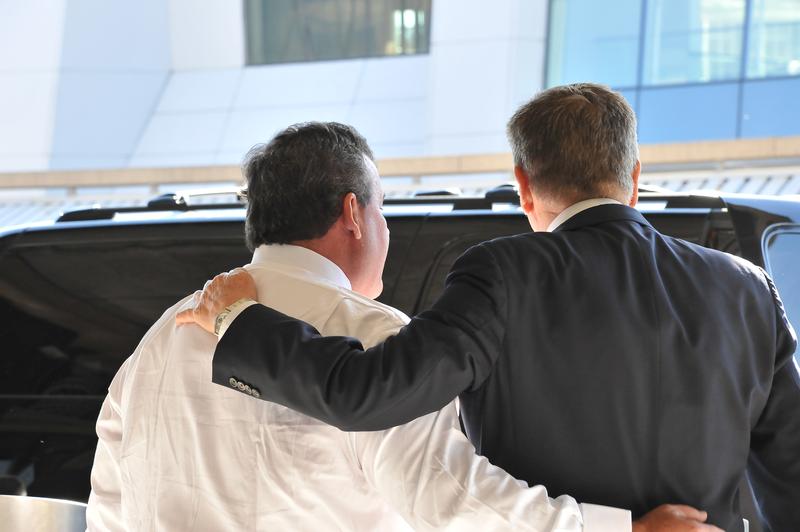 UPDATE: Former Port Authority chairman David Samson was sentenced to one year of house arrest, four years probation, 3600 hours community service and a $100,000 fine.

Chris Christie's friend, mentor and top appointee, David Samson, was sentenced today to live in his estate in South Carolina for a year under house arrest. Last July, Samson pleaded guilty demanding a special flight route from United Airlines while he was chair of the board of the Port Authority of New York and Jersey. The felony bribery charge carried a sentence of up to ten years in prison.
Samson, who once served as New Jersey Attorney General and ran an immensely profitable and well-connected law firm, is the highest ranking New Jerseyan to be convicted of public corruption charges in modern history. And given that this is New Jersey, that's saying something.
The judge in the case, Jose Linares, said in federal court in Newark Monday that he gave Samson, 77, special consideration because of letters the judge had received from Samson allies, including former governors and attorneys general of New Jersey.
Prosecutors had asked for two years in jail, citing Samson's "arrogance" and "outrageous behavior." They said that, if Samson didn't get a meaningful sentence, others tempted to commit public corruption would not be deterred.
Outside of the federal courthouse, U.S. Attorney Paul Fishman declined to criticize the judge, but noted,"There is some irony to the fact that the goal of the scheme, from Mr. Samson's perspective, was to make it easier for him to get to the house in South Carolina that he liked to spend his weekends at, and he's now been sentenced to spending all his time at that house."
Samson's attorney, Michael Chertoff, who himself was once U.S. Attorney for New Jersey, argued in court that Samson's age and array of health problems, including a bout with prostrate cancer and a condition that gave him tremors, meant a jail sentence would be the "last lap of his life."
In a quiet voice inside the courtroom, the once-commanding Samson apologized to the court and the people of New Jersey. But outside he remained mum as he made his way to and SUV with South Carolina plates. His family and friends exhaled audibly, then hugged and kissed Samson and each other after the judge left the bench. 
WNYC and other news organizations began to focus on Samson's conflicts of interest in the wake of the Bridgegate scandal. Samson ultimately resigned, came under investigation by federal prosecutors, and in a dramatic guilty plea last July, Samson, 77, acknowledged shaking down United Airlines until he got a direct flight from Newark, N.J., to his weekend home near Columbia, S.C.
The Port Authority runs Newark airport, and emails released in conjunction with the plea showed Samson demanding that United "dance to my tune."  Samson pleaded guilty the very morning then-candidate Donald Trump tapped Mike Pence —not Christie, who was a finalist —to be his vice president.
In a pre-sentencing memo begging for leniency and no jail time,  Samson's lawyers argued that Samson, "in the twilight of his life, stands before the court a humbled, ashamed, and broken person" suffering unspecified physical and mental health ailments.
"His simple aim was to secure a more convenient travel schedule, a benefit that he had been told United and other airlines often afforded to other public officials like himself," his lawyers wrote in the letter, claiming that Samson believed that was a "relatively routine accommodation."
But prosecutors argued in their legal papers that Samson, the former chief law enforcement officer of New Jersey, who make prosecuting corruption a stated priority "certainly understood that using his position as Chairman to pressure an airline to confer a purely personal beneift was a criminal and outrageous abuse of his power.'
Samson had introduced the idea of the direct flight, which shaved about an hour from his travel time, directly to Jeffery Smisek, then the CEO of United Airlines, at a fancy dinner at the New York Italian restaurant, Novita,  in September of 2011. But Smisek balked, and by Samson's own admission, he yanked an item important to United from a Port Authority agenda as a signal of his power over the airline.
United had just decided to make Newark Airport its major New York-area hub, and so it caved, setting up the flight to be especially convenient for Samson; it left Newark on Thursday afternoons, and returned early Monday morning. Samson reportedly dubbed it "The Chairman's flight."
Samson took the flight 27 times over the next three years, which spanned a time of heavy negotiations between United Airlines, Christie, and the Port Authority over whether the bi-state agency would lower United's flight fees by millions of dollars and build a PATH train extension to Newark airport, costly endeavors that would benefit the airline.
Both negotiations resulted in favorable results for United; but the fee deal fell apart in the aftermath of the Bridgegate scandal when all of Christie's top appointees at the Port Authority were forced to resign.  
Three of those appointees, now convicted of politically-motivated lane closures at the George Washington Bridge during Christie's re-election campaign, face sentencing later this month for their own crimes.
Smisek and two other senior officials at United were forced to resign from their own jobs in the wake of the bribery investigation. And though federal statutes don't exonerate the target of extortion schemes, prosecutors were satisfied with the cooperation of United officials and did not charge them. The airline had to pay a $2.4 million fine.
Samson served as New Jersey Attorney General under former Democratic Governor Jim McGeevey for just one year. While AG, he was heavily courted by Donald J. Trump, then an Atlantic City casino-operator regulated by the state of New Jersey. Samson allowed Trump to use the state police helipad in Trenton, and the two then went to a local state house to discuss changes Trump wanted at the casinos.
Days later Trump sent a thank you note to Samson that included a picture of his then-girlfriend, Melania.
Linares was also the sentencing judge for Charles Kushner, the father of Trump son-in-law Jared Kushner. Kushner was convicted of corruption and witness tampering, which included entrapping his brother-in-law with a prostitute, in connection with Kushner's fundraising work for McGreevey.
The prosecutor in that case was Chris Christie, who was at the time the U.S. Attorney.