Guilty on All Counts: Two Former Christie Aides Convicted in Bridgegate Case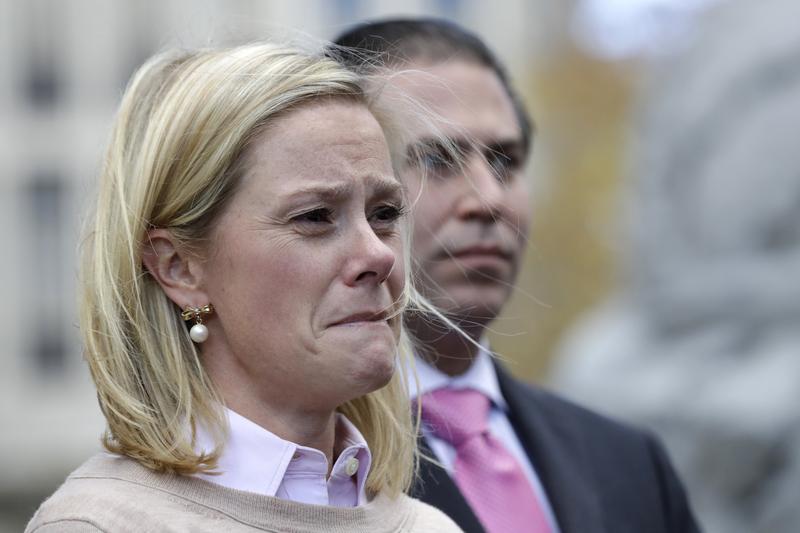 This is a breaking news story and will be updated as more details become available.
A jury has found two former top employees of New Jersey Gov. Chris Christie guilty on all counts for shutting down access lanes to the George Washington Bridge to punish a Democratic mayor who did not endorse his re-election. 
Former Port Authority deputy executive director Bill Baroni and former Christie deputy chief of staff Bridget Anne Kelly were found guilty of conspiracy, misapplication of public resources and fraud.
The pair face sentences of up to 20 years in prison on the most serious charges but would likely spend a much shorter time in prison. The sentencing has been scheduled for Feb. 21, 2017. Appeals are likely.
As the subsequent counts of "guilty" were read out, Kelly, a mother of four teenagers, silently wept. Baroni smiled as he hugged his parents, and then went outside to speak to the press and declare his innocence.
Kelly's lawyer, Micheal Critchley, said he still believed in his client's innocence, and vowed to appeal. Baroni's attorney, Mike Baldassare, said the prosecution should be "ashamed" of its case. He added: "They should have had belief in their own case to charge powerful people and they did not."
The U.S. Attorney for New Jersey, Paul Fishman, said he "took no pleasure in this verdict," but was "proud" of his office's work. 
The two were found guilty, in effect, of trying too hard to boost Christie's political fortunes in preparation for his presidential campaign. Christie allies sought endorsements from Democratic mayors in his 2013 re-election. When Fort Lee Mayor Mark Sokolich balked on that request, his town was gridlocked with four mornings in a row of traffic that delayed ambulances, stranded kids on school buses the first week of school and left untold numbers late for work and medical appointments.
The damning testimony of the scheme's architect, David Wildstein, and reams of documentary evidence, particularly the incriminating, infamous email from Kelly — "time for some traffic problems in Fort Lee" — were too great for the defense to surmount.  
"The evidence in this case has shown that you when the spotlight wasn't burning on them, when they weren't under investigation, when they thought no one else was watching, the defendants engaged in a scheme to punish Mayor Sokolich," Assistant U.S. Attorney Vikas Khanna said in his summations. "The evidence has shown that not only did they execute this scheme, but delighted in it."  
The jury of seven women and five men agreed. Their verdict comes at a time when Christie's favorability rating among New Jersey residents is at 21 percent, a historic low.
Christie continues to maintain that he did not know about the scheme and fired the people responsible when he did learn about it.
"On January 9, 2014, I apologized to the people of New Jersey for the conduct exhibited by some members of my administration who showed a lack of respect for the appropriate role of government and for the people we serve," Christie said in a written statement. "Those people were terminated by me and today, the jury affirms that decision by also holding them responsible for their own conduct."
"I had no knowledge prior to or during these lane realignments, and had no role in authorizing them," Christie added. "No believable evidence was presented to contradict that fact. Anything said to the contrary over the past six weeks in court is simply untrue."
Christie is planning to campaign for Donald Trump this weekend in New Hampshire and Pennsylvania.
Though Christie himself was not on trial, the convictions tarnish the reputation of a man who was once the U.S. Attorney for New Jersey, before becoming governor and a GOP candidate for president. At the Republican National Convention in July, Christie, who is the transition chairman for Trump's campaign, thundered in reference to Hillary Clinton: "Guilty or not guilty?"
But now the verdict "guilty" has been rendered four times for aides Christie once named to some of the most sensitive positions in his administration: Kelly, Baroni and Wildstein, for their role in the Bridgegate scandal; and David Samson, the former chairman of the Port Authority and one of Christie's closest friends, for demanding a special flight route from United Airlines in exchange for special treatment from the Port Authority.  
A fifth Christie appointee, former transportation commissioner Jamie Fox, also faces charges in the United Airlines bribery scandal.
Christie has repeatedly pointed to three investigations that he says "exonerated" him. But the court case, where evidence was presented under oath, was the opposite of an exoneration, painting a picture of a micromanaging, often abusive man personally obsessed with settling scores with political foes.
Both the prosecution and the defense presented evidence that Christie, who was not charged, was personally involved in the lane closures. Kelly testified she told Christie about the lane closures before she wrote the "traffic problems" email, and twice again, while they were occurring, even going so far as to discuss that Sokolich, the Fort Lee mayor, was complaining of potential retaliation.
And Baroni and Wildstein testified that they discussed the closures with Christie while they were happening when they saw Christie at a memorial service for the 12th anniversary of the September 11 attacks at the World Trade Center site.
During his closing arguments, Kelly's attorney said that the prosecution could have called Christie to contradict her, but did not, meaning her testimony stands. "All you have to do is have those gubernatorial footsteps come up here and put the gubernatorial hand on the bible and say: 'I didn't have that conversation with Bridget Kelly,'" Critchley told the jury.
But at the end of the day, the jury found it didn't believe Kelly nor Baroni when they protested their innocence. Kelly was a compelling, direct witness, but her testimony clashed with that of seven other witnesses at trial. She explained they had a motive to lie — their "livelihood depended on Christie," and in summations Critchley put up a chart showing how all seven did indeed depend on Christie.
Yet it was the weight of the documents that was most overwhelming. There was the damning email where Kelly, hearing that schoolchildren were stuck in traffic, texted Wildstein: "is it wrong that I am smiling?"
And Baroni and Wildstein called Sokolich "Serbia," though he is Croatian. The two seemed to chortle over Sokolich's repeated attempts to get calls returned.
More damning for Baroni was evidence of his attempts to cover-up the scheme: His rushing in to tell Pat Foye, the New York official who reversed the lane closures, that the closures "were important to Trenton," and that if Foye didn't close the lanes again then "Trenton would call Albany."
Baroni later appeared before the legislature, arguing that the lane closures had been a matter of fairness. An assemblywoman erupted at the time: "No one in this room believes that!"
Unfortunately for Baroni and Kelly, when they tried to testify in their own defense, disbelief reigned again.