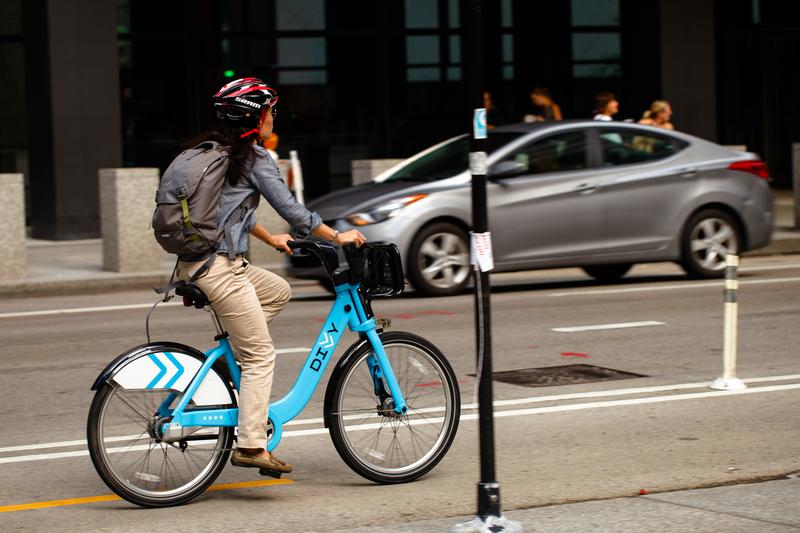 Divvy is poised to eclipse New York as the nation's largest bike share program -- at least in terms of stations -- next year.
Chicago Mayor Rahm Emanuel announced Wednesday that Divvy's expansion is being funded in part by $3 million from a U.S. Department of Transportation program.
Divvy, which launched in June, currently has 300 bike share stations. The DOT funding will add 75 bike share stations to its network, on top of an already-planned-for 100 station expansion slated for next year. Sum total of new Divvy stations in 2014: 475.
Number of New York Citi Bike stations: 331. (New York's timeline for its promised expansion remains unclear, though the city promises soon to offer a timeline for an already planned phase-in of 1000 more bikes.)
New Yorkers could almost hear the crowing from 800 miles away.
"Chicago is quickly becoming the best biking city in North America," said (outgoing) Chicago DOT Commissioner Gabe Klein.
"Chicagoans have thoroughly embraced Divvy and the idea of bike sharing as part of their everyday commutes," said Emanuel.  "These additional resources will allow us to extend the system so even more residents and visitors can use this new transit system to get around the city and its neighborhoods."
But in terms of sheer ridership, New York handily outdoes Chicago. Whereas Divvy has 11,000 annual members, New York is approaching 94,000.
Asked Friday about New York's expansion plans, Janette Sadik-Khan, speaking on Mayor Bloomberg's radio show, said "We're currently working on that, we're having discussions," but did not offer details.