SchoolBook
Clock Ticking, Charters in Limbo Look to Mayor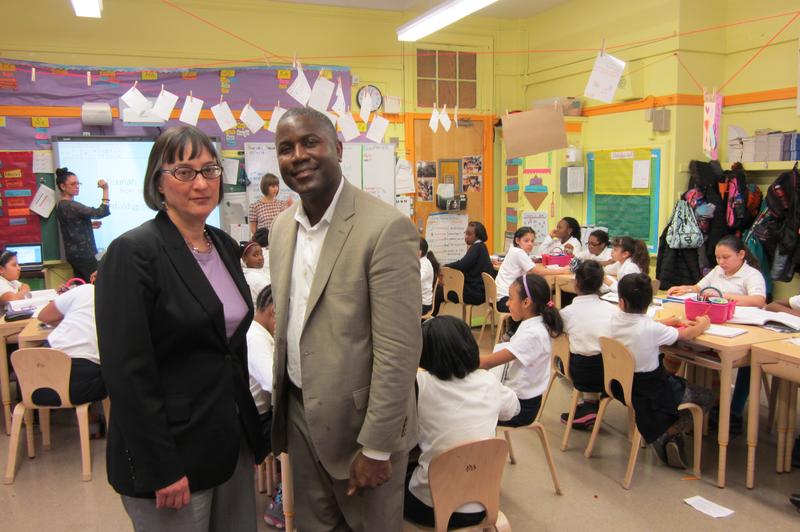 At Girls Prep Charter School in the Bronx, almost all of the 75 fifth graders are planning to go the charter network's new middle school when it opens next fall. But two lawsuits are seeking to stop Girls Prep and dozens of other schools from opening inside existing school buildings — putting thousands of students around the city in limbo. 
The standoff has forced Mayor Bill de Blasio into an awkward position. Charter school supporters want him to let the co-locations proceed, while plaintiffs expect him to follow through on campaign rhetoric to stop opening new schools inside public school buildings until the process is changed to allow more community input. 
De Blasio said recently he hasn't made any decisions about the schools in the lawsuit.
"We're going to look at what we think of the overall situation and the individual schools involved and then we'll come back with some answers," he told WNYC's Brian Lehrer.
The Panel for Educational Policy voted to allow the co-locations last year, when it was controlled by members appointed by then-Mayor Michael Bloomberg. Fred Baptiste, a panel member appointed by the Brooklyn Borough President, was among those who dissented.
"We are suing to stop it because it was a political stunt," he said. 
That position was shared by others who saw the co-locations as an attempt by Bloomberg to make sure his school reforms would continue even after he left office. Last year, the two lawsuits were brought by the teachers union, some community groups and powerful elected officials, including City Council Speaker Melissa Mark-Viverito, a de Blasio ally. They're seeking to halt the co-locations of more than 40 schools, including 28 charters. The rest are regular district schools.
Charter leaders believe the lawsuits are grossly unfair because the vote to approve the schools was legal and binding. Besides, the new school year is just around the corner and they need to prepare to enroll thousands of students.
The leaders of Girls Prep said their Bronx elementary school gets along well with the district school whose building it shares, and is planning to collaborate with principals of the two other schools in the building where its middle school is scheduled to open.
"I don't think we're some glitzy, rich private school that's eating public space," said Martha Zornow, principal of the Girls Prep middle school. "We're another option for public school families who are looking for something different."
Families who, she said, are now in a bind because they've missed the deadline to apply to other middle schools.
Fred Baptiste with his daughter, Arianna, who attends P.S. 161 in Crown Heights where a charter plans to open (Beth Fertig/WNYC)