After Betting on Thompson, UFT Endorses de Blasio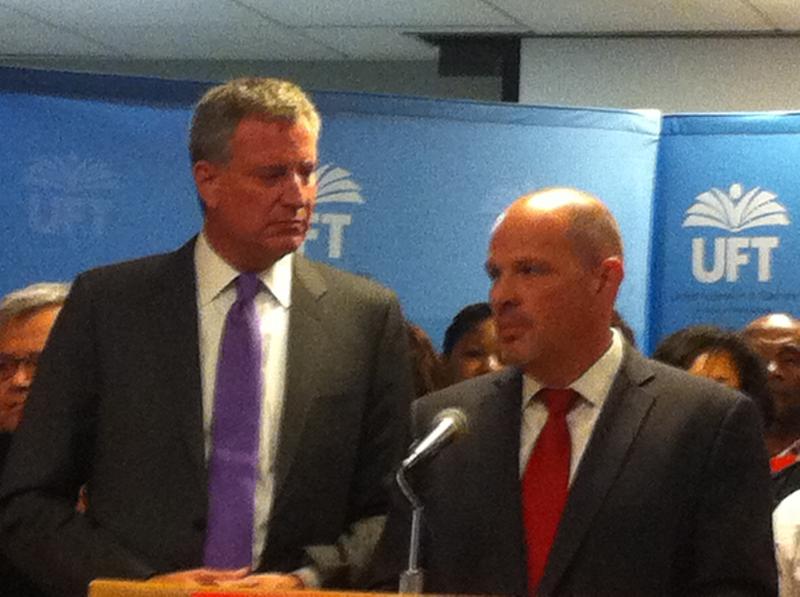 UFT president Michael Mulgrew once said he'd make Bill Thompson mayor. As it turns out, he helped him bow out.
Mulgrew says he facilitated a meeting between Thompson and Bill de Blasio at the union's headquarters last weekend.

"And in the end the decision was made that what was in the best interest of the city was to unite the Democratic party to make sure that a Democrat becomes the next mayor of New York City, and not the Republican nominee," he said.
The union, which boasts approximately 200,000 members, had thrown its considerable weight behind Thompson and spent more than a million dollars to support his candidacy.
But not all teachers agreed with the union's choice, and many told Schoolbook they preferred de Blasio, who has made universal pre-k and afterschool programs a key part of his platform.
Still, de Blasio said there are no sour grapes. "We know in primaries there are going to be some different choices," he said. "But we're Democrats, we're progressives. We're people who believe in shared core values."
De Blasio steered clear of one sticky subject. The teachers and other unions have been working under expired contracts, and it will be up to the next mayor to broker a deal. De Blasio said only that as mayor he'd "always make the judgements I think are in the best interest of the city," and said the coalition provides a good framework for working together going forward. 
For now, de Blasio and Mulgrew said they agree on one common goal, beating Republican Joe Lhota in November.
The announcement came just as the city Board of Elections was releasing its canvass of voting machines and emergency ballots.  De Blasio's total had ticked up to 40.88 percent of the vote, to Thompson's 26.25.  The board is still counting some 70,000 affadavit and absentee ballots.