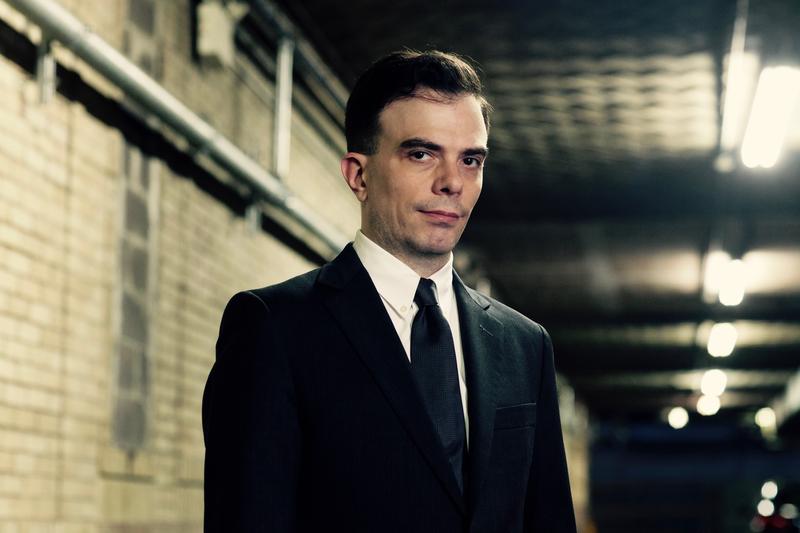 Composer, bandleader, and ringleader Darcy James Argue visits the New Sounds studio to introduce selections from his latest record, Real Enemies, a 13-chapter exploration of America's post World War II fascination with conspiracy theories. The record began as a multimedia work which premiered at BAM in 2015, and was co-commissioned by BAM, Beth Morrison Projects and The Fromm Music Foundation, and its title comes from Kathryn Olmsted's 2009 book Real Enemies: Conspiracy Theories and American Democracy, World War I to 9/11.
Each of these possible ideas – from faking the moon landing to our government being run by covert lizard people to our current surveillance state – gets a maximum amount of sympathy, no matter how implausible. On one episode, "Casus Belli," Argue imagines the CIA plotting a method of doing away with Castro by blowing up an airliner over Cuba, then starting a war. The Illuminati, the Red Scare, and alien sightings are among the other theories. What's the right level of paranoid?
Argue says that film music of Michael Small (The Parallax View) and David Shire (All The President's Men), definitely influenced the paranoid mood of the record, and insisted that the language of conspiracy theories "has to be 12-tone music." Despite that musical device, which at the opening of one of the chapters, "Trust No One," states its 12-tone intention with trumpets, the end result throughout the record may sound anywhere from modernist to Afro-Latin jazz to minimalism, and the listener might not know that the music was based on 12-tone techniques.
Then there are the bits of voiceover audio, of varying lengths, woven in throughout the score, as selected by Isaac Butler for the multimedia work. Each clip of audio helps to set up the conspiracy theories, from speeches by JFK, Frank Church, George H. W. Bush, and Dick Cheney. There's also a concluding voiceover by actor James Urbaniak to sew up the moody episodes of suspicion and overall mistrust.
Hear a number of selections from Darcy James Argue's Real Enemies on this New Sounds. The full work is is streaming as an album preview until the record is released officially on Friday, Sept. 30th. The album release show takes place at National Sawdust on Sunday, Oct. 2.
PROGRAM #3904, with Darcy James Argue (First Aired 09-27-2016)      
ARTIST: Darcy James Argue's Secret Society, ft. Sam Sadigursky, E flat clarinet and Ingrid Jensen, trumpet
WORK: You Are Here, excerpt [3:46]
RECORDING: Real Enemies
SOURCE: New Amsterdam Records
INFO: newamrecords.com | darcyjamesargue.bandcamp.com
ARTIST: Darcy James Argue's Secret Society, ft. Mike Fahie, trombone
WORK: Casus Belli [5:37]
RECORDING: Real Enemies
SOURCE: New Amsterdam Records
INFO: newamrecords.com | darcyjamesargue.bandcamp.com
ARTIST: Darcy James Argue's Secret Society, ft. Sebastian Noelle, guitar and Carl Maraghi, baritone sax
WORK: Trust No One [5:21]
RECORDING: Real Enemies
SOURCE: New Amsterdam Records
INFO: newamrecords.com | darcyjamesargue.bandcamp.com
ARTIST: Darcy James Argue's Secret Society, ft. Dave Pietro, alto sax & Ryan Keberle, trombone
WORK: Dark Alliance [7:05]
RECORDING: Real Enemies
SOURCE: New Amsterdam Records
INFO: newamrecords.com | darcyjamesargue.bandcamp.com
ARTIST: Darcy James Argue's Secret Society, ft. James Urbaniak, narration
WORK: Excerpt [1:45]
RECORDING: Real Enemies
SOURCE: New Amsterdam Records
INFO: newamrecords.com | darcyjamesargue.bandcamp.com
ARTIST: Darcy James Argue's Secret Society, ft. Rob Wilkerson, alto sax
WORK: Best Friends Forever [4:26]
RECORDING: Real Enemies
SOURCE: New Amsterdam Records
INFO: newamrecords.com | darcyjamesargue.bandcamp.com
ARTIST: Darcy James Argue's Secret Society, ft. Sam Sadigursky, A clarinet, Ingrid Jensen, trumpet, James Urbaniak, narration
WORK: Best Friends Forever [4:26]
RECORDING: Real Enemies
SOURCE: New Amsterdam Records
INFO: newamrecords.com | darcyjamesargue.bandcamp.com