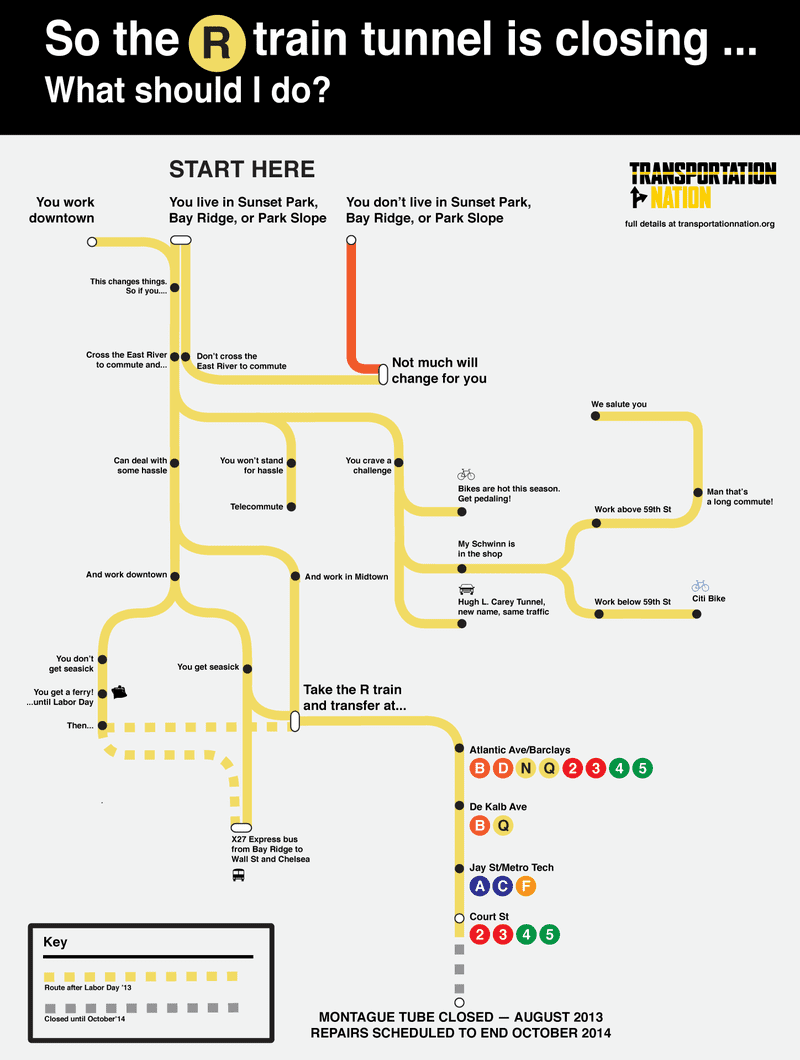 (Click image to the left for our handy flowchart.)
First things first: yes, while the R train will not run between Brooklyn and Manhattan for over a year, that doesn't mean it's not running IN Brooklyn and Manhattan. Here's how to deal.
Wait! What's happening to the R train?!
Beginning around 11:30 p.m. on Friday, August 2, New York's MTA will shut down the Montague Tube—the underwater tunnel that carries the R train between Brooklyn and Manhattan. 
Will this affect me? 
Use our handy dandy flowchart to find out!
Why is the tunnel closing?
The Montague Tube is the longest tube in the system and was one of the hardest hit during Sandy. Twenty-seven million gallons of water flooded it to the ceiling. The train wasn't operational again until late December. Now, signals are failing, delays on the R train are up 120 percent and the MTA needs to make extensive repairs to tracks, tunnel lighting, power substations, pump rooms, and the electrical system. That will take time. Read more about the damage—and see pictures of damaged tunnel components—here. Also check out some pictures on the MTA's flickr page.
How long will it take?
The MTA estimates 14 months. The work is so extensive that "it's almost like building a tunnel from scratch," said MTA chair Tom Prendergast. But remember how the MTA said the A train to the Rockaways would take longer to restore than it did? So the authority could be managing your expectations. But, either way, plan on finding an alternate route for over a year if you take the R under the East River.
But will there still be some R service?
Yes. During weekdays, think of the R as two separate lines: the northern branch and the southern branch. The northern branch will run from Whitehall Street-South Ferry in Manhattan to Forest Avenue-71st Av in Queens. In Brooklyn, it will operate between Court Street and Bay Ridge-95th Street. But it will not run under the river between Court Street, Brooklyn, and Whitehall, Manhattan. (Here's the MTA's site on how to navigate the changes.)
And some visuals:
WEEKDAY R: (6am - 11:30pm)
WEEKEND R:
The R train WILL run between the boroughs on weekends—but over the Manhattan Bridge between DeKalb and Canal. (So it's possible to get a one-seat ride between the boroughs.) That means some lower Manhattan stations will be bypassed entirely: City Hall, Cortlandt Street, Rector Street and Whitehall Street.
In Brooklyn on weekends, Court Street and Jay Street will get skipped.
LATE NIGHTS:
City Hall, Cortlandt Street, Rector Street and Whitehall Street in Manhattan will be closed late nights. In Brooklyn, Court Street will close; Jay Street remains open for A and F service. R shuttle service will operate between 95th and 36th Streets in Brooklyn, and the late-night N will go over the Manhattan Bridge.
I take the R train! What should I do?
You have a lot of subway options in downtown Brooklyn and there are a number of transfer points, especially along the last four stops. 
What about buses? Can I take an express bus?
Of course. The MTA will increase service on the X27 by about 25 percent.
That's it? I transfer or take a bus? Do I have any other options?
For the month of August, the Rockaway Ferry boat will make an additional stop at the Brooklyn Army Terminal in Sunset Park, a few blocks west of the 59th Street N/R station. (Seastreak, which is operating the ferry, told us that there is also free parking at the terminal. And you can bring a bike on board for free.) The ferry to Manhattan costs $2 and it will get you from 58th Street, Brooklyn to Wall Street in 15 minutes. See the schedule here. the ferry -- which is subsidized by NYC -- is currently scheduled to stop running after Labor Day, so enjoy it while you can.
I'm thinking about biking, but it's a loooong way from Sunset Park to my Manhattan office.

You don't have to go the whole distance on two wheels. Bikes are allowed for free on the Rockaway Ferry, which will be stopping in Sunset Park for a month. Or: get off the train at Atlantic Avenue and grab a Citi Bike at one of the area's bike share stations and head over the Manhattan or Brooklyn Bridges. Here's a bike share station map. If you need incentive, Transportation Alternatives will be offering free coffee and snacks on those bridges on Monday, Wednesday and Friday mornings. 
Can I drive? 
Sure. But it will still be just as hard to find a parking space. 
How much is the R train work going to cost? Who's paying for it?
Total cost to rehabilitate the Montague Tube is $309 million, and it's coming from the federal government. So far the MTA has received $3.8 billion in funding from the Federal Transit Administration for post-Sandy repairs and resiliency work.
Will this happen to any other subway lines?
It's actually happening right now to the weekend G train. But as for other lines, it's unclear. In June, the head of the MTA told us that he didn't think so—but wouldn't know for sure for a while.
PS: Looking for some listening material for your subway commute? Load up on WNYC podcasts here.