SchoolBook
Mayoral Candidates Support More Arts Funding for Schools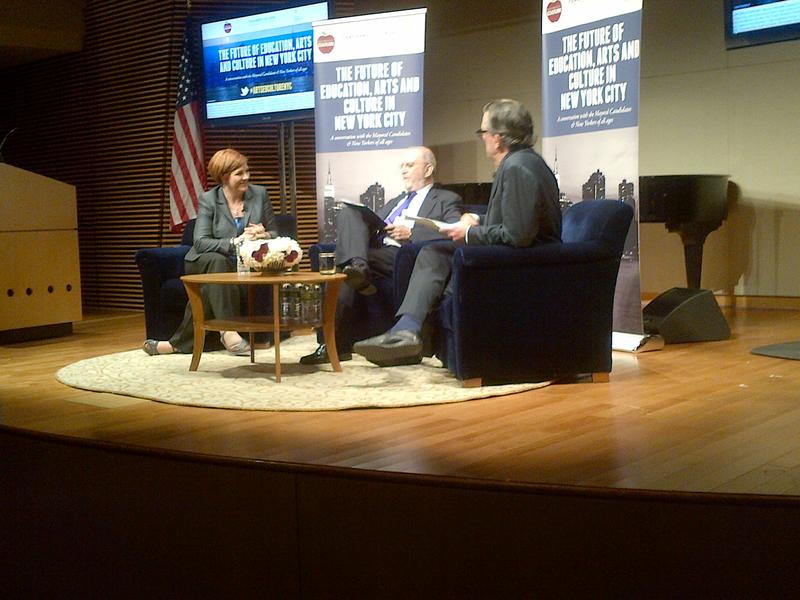 Bill Thompson played viola when he was a student at Midwood High School. John Liu took violin lessons even though he was a "math nerd." And Bill de Blasio credited theater classes at M.S. 51 in Park Slope with making his two children more confident.
Those were a few of the personal anecdotes the mayoral candidates revealed at a forum on arts and education, held at Teachers College-Columbia University Tuesday night. Fourteen candidates took turns fielding questions from WNYC hosts Leonard Lopate and Kurt Andersen about how to support the arts during a tough fiscal climate.

Not surprisingly, the better-known Democrats and Republicans agreed the city should spend more money on arts education. Thompson, the former city comptroller and president of the former Board of Education, said that he would want to ensure a baseline of funding for art and music in the schools. He added that arts education should figure in the evaluations of schools and principals.
Arts spending rose to roughly $300 million under Mayor Michael Bloomberg but the city loosened the old baseline, allowing principals more discretion over how to spend their budgets. All of the major candidates said that number should climb, but some were more hesitant than others to give a price tag until the city's economy improves.

"Art and music education is critical to the formulation of young minds, it's not just supplemental the way it was in the Giuliani administration it should be part of the core," said Republican candidate Joseph Lhota. 

City Council Speaker Christine Quinn said it's her goal for every school to have art and music teachers, starting with those that have the lowest reading scores.
"I know we can find these resources," though she quickly added, "I can't give you a number."

The candidates were asked about data showing 20 percent of schools don't have full-time art teachers and half don't have full-time music teachers. State law requires a minimum amount of instruction in music, dance, visual arts and theater (which varies according to grade level), but very few city schools are able to meet those standards.

Public Advocate de Blasio said he would make sure the city did more to comply, adding, "the law is the law, it's not optional."

Comptroller John Liu also said the city should look for savings from the money it spends on consultants, and said he would want to see a return to arts and music education by partnering with local cultural institutions such as Young Audiences New York, which co-sponsored the forum.

The panel's other sponsor, One Percent for Culture, has proposed that the city spend one percent of its roughly $70 billion annual budget on non-profit arts and cultural groups. That would boost the current level of $150 million to almost $700 million.

All of the candidates said they supported the goal. But the only major candidate to embrace the idea was Republican businessman John Catsimatidis, who said he supports it "110 percent." 
One particularly colorful exchange occurred when Lopate questioned Lhota about his role as Mayor Giuliani's point man in a fight to defund the Brooklyn Museum over a controversial art show.
"I've learned a lot and I made a mistake," Lhota said. But he went on to describe his opposition to the 1999 exhibit, which included a portrait of the Virgin Mary by an African artist who used paint and elephant dung.

Lhota and Lopate then got into a debate over the artist's use of the elephant dung.
Seven invited candidates did not attend the forum.