Last Chance Foods: Pea Shoots
About five years ago, artist Frank Meuschke was exploring a Minneapolis farmers' market when he came across a stand selling bundles of mysterious looking greens for a $1 each. The greens were pea shoots and the farmers selling them were Hmong people, a minority group from China and parts of Southeast Asia. Although the leaves and tendrils of pea plants are less well known in American cooking, they are popular in a number of different Asian culinary cultures. Now is the time to get them at the farmers' market.
Meuschke, who blogs about his gardening at New York City Garden, grows dwarf pea plants for their legumes and shoots at a community garden in Fort Tildon, Queens. Wind from the water nearby — his plot is just 300 yards from the beach — makes it tough to grow pea plants that grow taller.
His peas are planted in sandy, well-drained soil, and have grown well in the recent cool, wet weather. Warmer weather makes the leaves and shoots less tender and more woody.
Pea shoots, also known as pea greens, are the leaves, tendrils and flowers of a mature pea plant. In Chinese cooking, pea greens are often lightly sautéed with garlic in oil. The resulting tasty leaves are crunchy and have a mild sweetness akin to snap or snow peas. Pea sprouts are smaller sprouted pea leaves.
Cathy Erway, who writes the blogs Not Eating Out in New York and Lunch at Sixpoint, grows pea plants on the roof of the Sixpoint Brewery in Red Hook, Brooklyn. Humans, she said, are not the only creatures that love pea greens.
"Our chickens actually really love the pea shoots, too," Erway said. "They like anything really tender and sweet like clover. They actually fight over them, too. If you ever want to see a good girl fight, you just throw a handful of pea shoots into a chicken coop."
Erway said that pea plants grow well in containers, but need a structure to climb and grow on, and that the leaves can be harvested from the sides of the plant so it continued to produce peas.

Pasta, Wild Garlic, Woodsy Mushrooms, and Pea Greens (courtesy of Frank Meuschke)

1. Start a pot of salted water to boil.
2. Slice 1/2 lb. guanciale (or pancetta) and crisp to a golden brown over low heat in a sauté pan. Drain the rendered fat (keep for future use). Set guanciale aside.
3. Chop 10 to 15 small bulbs of wild garlic (or 2 to 3 cloves of store-bought garlic) and saute over low heat in a tablespoon of unsalted butter. Do not burn, just soften the garlic.
4. Chop a 1/4 to 1/3 lb. of your favorite mushrooms. (I used oysters and hen of the woods.) Toss the mushrooms into the saute pan with the garlic and saute for a few minutes.
5. Boil a pound of your favorite fresh pasta. (I used a wide linguine — almost a fettuccine. Fresh pasta tastes best, but dry is okay in a pinch.)
6. Add to the saute mixture:
2 or 3 tablespoons of cream
1 or 2 tablespoons of the rendered guanciale fat
1 or 2 tablespoons of the pasta water
The guanciale
A dash of nutmeg
Sea salt and fresh ground pepper to taste
7. Chop the fresh pea greens into 1 to 2 inch pieces.
8. Drain the cooked pasta. Stir the pasta into the saute pan mixture. Stir in the pea shoots.
9. Plate and serve with grated parmigiano reggiano.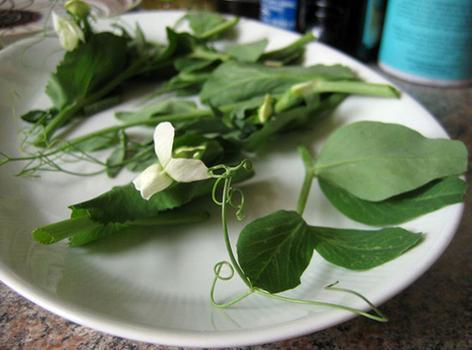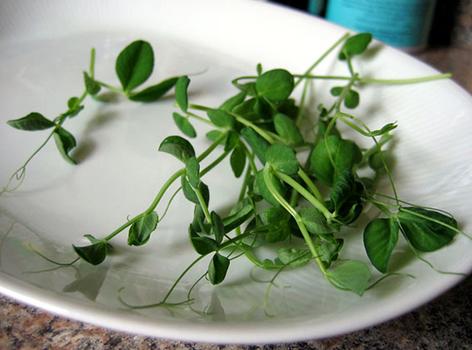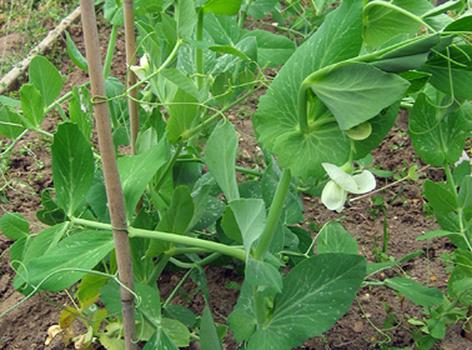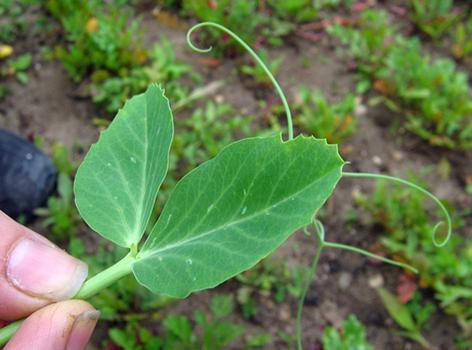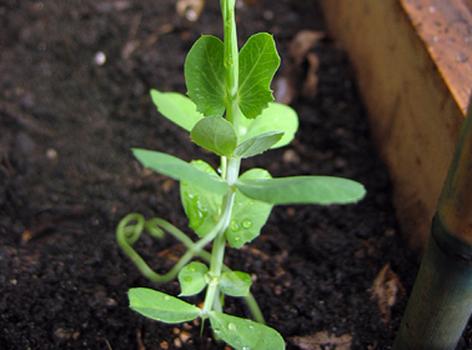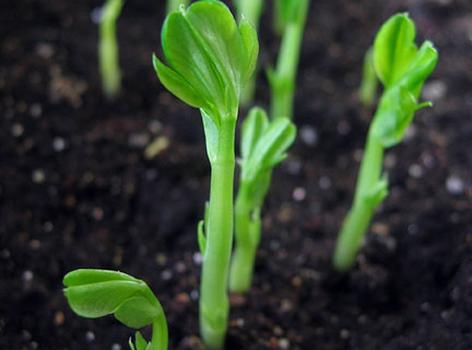 of