Quince. No, not quints, as in babies, but quince, as in fruit. Yes, it's fruit—a pretty ancient one at that. There's some speculation that what the serpent handed Eve was a quince, and not an apple at all. One indisputable fact is that quince used to be grown throughout the New York area. These days, however, much of New York's current population can be divided into two categories when it comes to quince: Those who have never cooked with the fruit, or even heard of it, and loyal quince enthusiasts who wax rhapsodic about it. Whichever category you fall into, now's the time to get familiar with it. Quince can be difficult to find, and its season in this area is nearly over.
Baker Kate Weiner (pictured below) is a quince devotee. She speculates that the fruit has fallen out of popularity in recent decades because working with it requires some creativity. "You can not eat quince out of hand like the way you can [with] so many other fruits," she says. "You really need to do something to it—to cook it, to add sugar to it in some way." That's because the fruit is very hard and not that sweet.
Mike Biltonen, a farmer with Red Jacket Orchards near the Finger Lakes, grows quince and explains that those in other cultures are very familiar with the fruit, even if Americans are not. "In other countries, I mean, there are celebrations that are held around the quince in the same way that we might at Halloween have celebrations around pumpkins, or at Thanksgiving around turkeys," he says. "The quince is held in very high regard, and I find the historical aspects of this fruit to be quite intriguing." 
Weiner adds that you may recognize quince from Flemish Renaissance still-life paintings. The fruit is also fragrant, and according to All Things Considered host Amy Eddings, smells of pineapple and rose. Bowls of quince used to be placed in rooms as an all-natural air freshener or in drawers much like lavender sachets.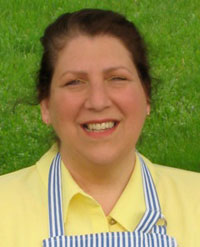 For the seasonal puff-pastry tarts she specializes in, Weiner cuts a quince into eighths, and then sautés it in butter, buckwheat honey, and rosemary. There's no need to peel the quince, despite what some recipes might say. "When you do cook it, the flesh of the quince turns the most beautiful rosy hue," she says.
Try out Weiner's recipe for duck breasts with caramelized quince below.
Duck Breasts with Caramelized Quince
By Kate Weiner
Serves 4
2 large quinces, each weighing about a pound, or 4 small ones
vegetable oil for frying
About a pound of shallots or small white onions, peeled
4 duck breast fillets (fat side well-pricked with a small skewer or sharp knife)
salt and pepper
3/4 teaspoon ginger
1 teaspoon cinnamon
juice of 1/2 lemon
2 tablespoons honey
pinch of saffron threads (optional)

1. Wash and scrub the quince. Put them in a pan with water to cover and simmer until they feel soft—15 to 45 minutes. The cooking time can vary considerably, so you should watch that they don't overcook as they can fall apart quickly.
2. Drain the quince and, when cool enough to handle, cut them into quarters and cut away the hard cores. Slice each quarter in half so you have 8 slices per quince. On medium setting, heat some oil in a large frying pan and gently fry the slices in very shallow oil until brown. Turn them once, brown on the other side, lift out and reserve.
3. The shallots need to be peeled and softened. An easy way to achieve both is to boil them in their skins for 5 to 10 minutes. You can peel them when they're cool enough to handle.
4. Season the duck breast fillets with salt and pepper. Heat 1–2 tablespoons of oil well in your frying pan. Add the duck breasts skin side down and lower the heat a bit. Brown the breasts for about 10 minutes until the fat under the skin is released. Your goal is crisp and golden. Turn the breasts and cook on the other side for 5 minutes.
5. Lift the breasts out and keep warm. Pour out all but 2 tablespoons of the duck fat. Add your softened shallots and cook on a gentle heat, stirring occasionally, for about 8 minutes or until golden.
6. Stir in the ginger and cinnamon, a little more salt and pepper, the lemon juice, honey and saffron. Add about 4 to 6 tablespoons of water and stir well.
7. Return the duck breasts to the pan of sauce and shallots, add the caramelized quince slices on top and cook everything together over gentle heat for a few minutes until the duck is cooked to your liking. (I like it still a little pink.)