Joan Nathan appears in the following:

Thursday, October 16, 2014
In part two of his annual Lopate and Locavores food series, Leonard and food writers Joan Nathan and Arthur Schwartz took us through a delicious history of the city's iconic delis.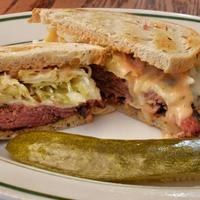 Wednesday, October 15, 2014
7:00 PM
Wed, Oct. 15 | WNYC's Leonard Lopate looks at the history of NYC's iconic delis with authors and food writers Arthur Schwartz and Joan Nathan. A live video webcast will be available.
Thursday, December 16, 2010
Wednesday, December 09, 2009