StoryCorps
WNYC is the hometown media partner of StoryCorps, an independent nonprofit whose mission is to honor and celebrate one another's lives through listening.
The heart of StoryCorps is the conversation between two people who matter to each other. Since 2003, almost 50,000 people have shared life stories with family and friends in StoryCorps booths. But the experience continues whenever people listen to these stories. Listen to WNYC for excerpts of StoryCorps interviews, featured weekly on Morning Edition.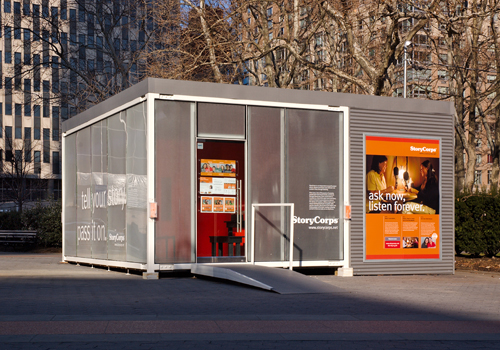 Important Announcement
As of November 1, 2011, StoryCorps scaled back its NYC-based operations due to funding challenges. Public interviews ended on October 31st.
Over the past 8 years, StoryCorps New York has had the privilege of collaborating with hundreds of organizations throughout NYC and collecting the stories of thousands of voices in NYC. StoryCorps has worked hard to make it possible for so many New Yorkers to record and preserve the diverse and extraordinary stories of their lives.
Until StoryCorps re-establishs their public programming in New York City, we encourage you to learn about other ways that you can participate in the StoryCorps experience. View details here.