Mayoral Candidate Bo Dietl Gets First Endorsement from a Public Official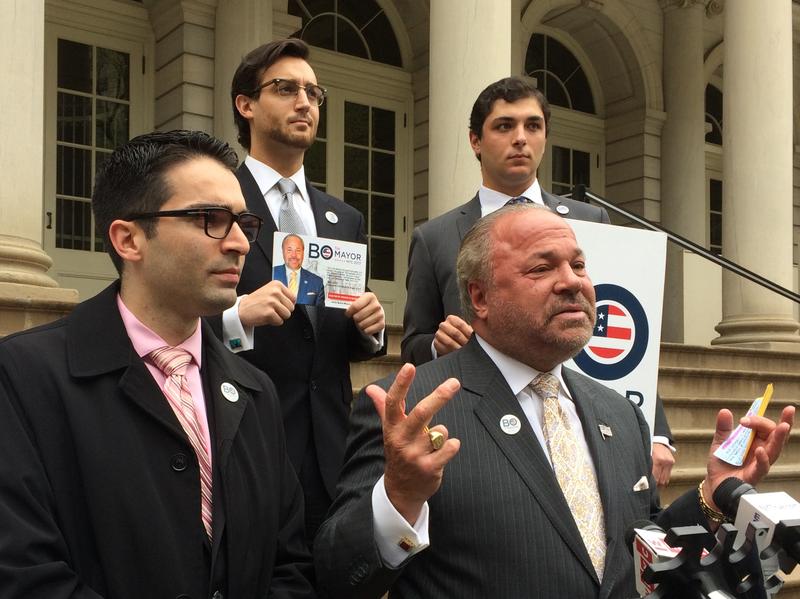 Republican City Councilmember Eric Ulrich — who was mulling a run for mayor himself — threw his support behind mayoral candidate Bo Dietl, a former NYPD detective and the head of his own private security firm.
"I think Bo Dietl would make a fantastic mayor and of all the people who want to run on the Republican line, he's the best we've got," said Ulrich who called the election a referendum on Mayor Bill de Blasio's lack of leadership, mismanagement, and an inattention to the city's daily affairs.
Ulrich is the first elected official to endorse Dietl for mayor. But his support alone may not be enough to secure Dietl a spot in the Republican primary race.
Right now, Dietl is man without a party, after checking too many boxes on his voter registration form last fall. He's hoping to persuade Republican party leaders to sign off on a Wilson-Pakula certificate, which is the law that would allow him to run in the party primary even though he's not a registered party member.
Ulrich directed his appeal directly to Republican district leaders, party leaders and elected leaders who will decide whether to allow Dietl in the race.
"Why wouldn't you let Bo Dietl run in the primary since he has so much support in Republican circles and Republican parts of the city?" said Ulrich.
Dietl praised Ulrich for his endorsement calling him, "one of the most important Republicans, if not the most important Republican to support me."
Dietl said he was there to appeal to Republican leaders for the Wilson-Pakula as well as to seek the Conservative, Reform and Independence party lines. "And the main line I want to run on is the 'Anyone But Bill de Blasio,' line," Dietl said.
That party does not currently exist.
Then the candidate, dressed in pinstripes, a matching silk tie and pocket square with a rhinestone pin of the American flag on his lapel, launched into his pitch to be the mayor for all people.
Dietl talked about his background serving as an NYPD detective in the 1970s. He says he volunteered to be a decoy, "where I was mugged 500 times."
"I was hospitalized 30 times. Fractured skull, I broke my shoulder and many other injuries, I was stabbed and shot at," said Dietl, who cited all his on-duty bloodshed as one of the reasons why he was qualified to be mayor.
He touted his three decades of experience running Beau Dietl & Associates, a security and investigative firm, which he said gave him perspective on working with people of different backgrounds.
"I run a business with a lot of minorities. The majority of my employees are minorities, 98 percent of them. I know the plight when they can't afford to go on the MTA. I know the problems of affordable housing," said Dietl.
Then Dietl let loose a stream of consciousness tirade against de Blasio, from the mayor's management of the Administration of Children's Services: "a disgrace"; to plans to close Rikers Island: "Let's clean it up because you're just going to move the same circumstances to a boro";  to the de Blasio administration's record-low crime numbers: "You're playing with these crime statistics."
A spokesman for the de Blasio campaign responded to a request for comment by focusing on the mayor's announcement on Monday to expand early education in the city.
"Mayor de Blasio expanded Pre-K for every 4-year-old and will do the same for every 3-year-old. He raised wages for tens of thousands of workers and gave paid sick days to thousands more. Crime is at record lows, jobs are at a record high, and New York City is building affordable housing at a record pace. That is the mayor's record, and one that New Yorkers are rallying around," de Blasio spokesman Dan Levitan in a statement.
Dietl's brash, unconventional, sometimes offensive style has invited comparisons to another New York businessman turned long-shot political candidate: President Donald Trump.
"I am not Donald Trump and anyone that compares me, I really feel hurt in my heart," said Dietl.
"This election is not going to be a referendum on Donald Trump," Councilmember Ulrich said adding, "This election is a referendum on Bill de Blasio."