City-Funded Lawyers Help More Detained Immigrants Win Cases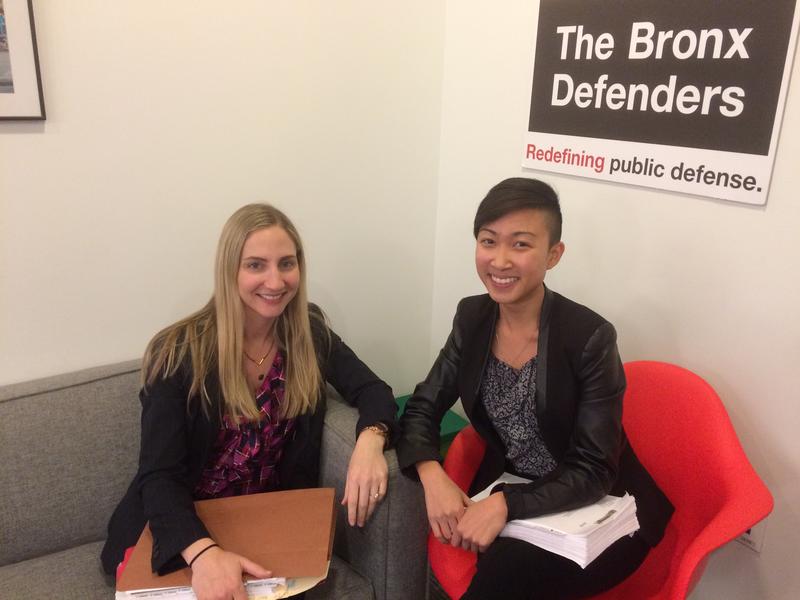 On February 5, 2016, a man we'll call Arturo left the downtown restaurant where he works as a cook and boarded a Lexington Avenue express train home to the Bronx. He's asked us not to use his real name because of what happened next.
It was rush hour and he said his train car was packed, mostly with men. As the train approached 42nd Street, he said he was approached by an undercover police officer who accused him of forcibly touching a woman. 
Arturo was surprised, because he said he hadn't done anything of the kind. When he went to court in Lower Manhattan the next month, to plead not guilty to the charge, Immigration and Customs Enforcement agents were waiting outside.
"I was afraid," he said in Spanish. "When they stopped me and I saw that they were immigration, I knew I wouldn't see my kids again."
Arturo was immediately charged with having illegally entered the country from Mexico in 2004. Homeland Security won't say how he was flagged. But his lawyers presume the subway arrest played a big role. Even though New York is a sanctuary city, and doesn't let immigration agents into its jails, when someone's arrested their fingerprints are still shared with a state database and the FBI. The Department of Homeland Security also gets them. Arturo's fingerprints were already on file from the first two times he tried to cross the Arizona border.  
The immigration agents took Arturo to a detention center in New Jersey. Normally, he would have had a tough time finding a free lawyer. The Constitutional right to counsel is guaranteed only for people in criminal proceedings. But in 2013, New York City began offering lawyers for detained immigrants.
"What was happening was you had thousands and thousands of New Yorkers getting deported every year without ever having the ability to adequately present their case to the judge," said Sarah Deri Oshiro, a supervising attorney with Bronx Defenders, who helped start the New York Immigrant Family Unity Project.
Since its launch in 2013, the project has provided lawyers for 2,000 immigrants through a partnership with three public defender organizations: Bronx Defenders, the Legal Aid Society and Brooklyn Defender Services. The project focuses mostly on immigrants in detention — which make up a small percentage of all non citizens facing deportation — because they have the hardest time finding representation.
A 2011 study by a committee convened by a federal judge found about 60 percent of detainees going to court in New York had no representation. Without a lawyer, their chances of winning their cases was just 3 percent. Now that immigrants in detention do have lawyers, more than 30 percent are winning, according to the Vera Institute of Justice, which is conducting an evaluation to be released this summer. This corresponds with a decline in the number of detainees being deported.
Public Funds for Lawyers
The Immigrant Family Unity Project is receiving more than $6 million this year in city funds. This pays for a total of about 30 staff attorneys plus social workers, various other staffers and administrators from all three partners. The funding received strong support from the City Council. After Donald Trump's election in November, Mayor Bill de Blasio suggested he would propose additional funds.
"If the federal government tries to deport law-abiding New Yorkers who have no representation, we will step in," he told a cheering audience at Cooper Union. San Francisco and a few other cities are now considering similar legal programs.
But Heather MacDonald, a fellow with the conservative-leaning Manhattan Institute, questions the project.
"It's not clear to me that taxpayers should be funding a program to resist federal immigration authority, given the number of demands that are out there on taxpayer funding," she said. She suggested law school students and legal clinics may be more appropriate ways to help those facing deportation.
But others believe public funding is justified because immigrants fighting deportation do need lawyers. Julie Myers Wood was director of Immigration and Customs Enforcement under former President George W. Bush, and is now chief executive of Guidepost Solutions. She said her hardest cases were those without representation.
"It wasn't kind of a fair fight," she explained. "'Cause you are a trained lawyer and you were against somebody who didn't kind of know how to proceed. I think having both sides understanding what the law is and making the best case gets us to a place where there's a fair result."  
Nonetheless, Wood strongly supports immigration reform to reduce the burden on the courts. The backlog in the New York City immigration courts alone is almost 70,000 cases.
Inside Detention Court - Arturo's Case
The court for immigrants in detention is in a federal office building on Varick Street, which also used to house a detention center. It has three judges and a backlog of more than 570 cases, according to Syracuse University's Transactional Records Access Clearinghouse.
There are currently almost 1,000 detainees at three centers in Hudson and Bergen Counties, in New Jersey, and Orange County, New York, according to U.S. Immigration and Customs Enforcement. The government pays $128.88 per day to house them, and they are transported back and forth to Varick St. for their hearings. 
Arturo had his most recent hearing in December, in front of Judge Patricia Buchanan. He wore an orange jumpsuit with the initials of the Hudson County Department of Correction on the back, and his hands were shackled. The 31-year-old is five-foot-three and slim, and appeared very nervous. He sat with his team from Bronx Defenders, Oshiro and Law Graduate Courtney Lee, and a court-appointed translator. There was also an attorney from Immigration and Customs Enforcement, James McCarthy.
Arturo's case is very complicated and his team has a few different claims. They are asking the court to withhold his deportation on the grounds that he'll be persecuted or tortured if he goes back to Mexico. 
"His stepfather subjected him to — during his entire childhood and adolescence — to really severe constant and consistent sexual, physical and psychological abuse," Lee explained.
In court, she asked Arturo to recall some of the beatings and how his mother and siblings are still living in terror. He said the abuse continued even after he arrived in New York and sent his mother money to leave the man. He described in Spanish how he feared his stepfather would kill him if he moved back to Mexico, because he was the one who helped his mother escape. And he said he had no other place to live except for the town in which they reside. But Judge Buchanan appeared skeptical. She asked if he had any family in New York when he first arrived in 2004, and he said no.
Arturo's legal team is also seeking to halt his deportation by arguing his two young children would be harmed. Immigrants who have lived in the U.S. illegally for at least 10 years can apply for a cancellation of removal if an American citizen would suffer "exceptional and unusual hardship."
It's a tough bar to meet, and it doesn't help Arturo's case that he has a few convictions for misdemeanors, including breaking a store window when he was drunk and possession of marijuana. But his advocates argued that these are minor and were related to the traumas he suffered as a child. He told the court he stopped using marijuana and alcohol after his children were born, to set a "good example." His advocates said he also has an employer who believes in him, and wants to hire him back. 
Because Arturo is the primary breadwinner, they argued deporting him would put the children at risk of homelessness. His partner, the children's mother, is already fighting eviction proceedings. And Arturo said the stress from his detention has caused his seven year-old son to wet the bed and barely eat. But McCarthy, of I.C.E., argued that the children seem healthy and are not experiencing "exceptional and unusual hardship."
The judge had to stop the proceedings at noon because she had too many other cases that day. She scheduled Arturo's next hearing in February, almost a year after he was sent to detention.
Deportation cases are often uphill battles, even without all the delays of the busy court system. Last fall, Arturo's lawyers unsuccessfully fought to get him out on bail; the judge sided with the government's argument that he was a flight risk. Nonetheless, Oshiro said that doesn't mean free representation isn't worth the time or money.
"Some people are able to make educated, voluntary decisions that they don't want to fight the case" after meeting with a lawyer, she said. Others, she said, press ahead even if the odds are long because that's their right. 
Arturo wants to take that chance. He's allowed short weekly visits at the detention center with his partner and their children, and he misses cooking for them and hugging them daily. 
"I believe there are many families being separated and I don't think it's fair," he explained. "We all have families. The judges and the attorneys, they should be in our place."
With translation help from Delia Bussalleu.