WNYC Preservation: An Audio Archive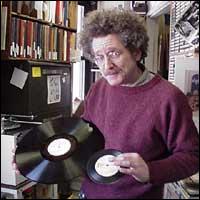 The WNYC archives are home to a treasure trove of historic recordings featuring notable broadcasts throughout the station's nearly 80-year history. Below are ten of the most memorable clips dating back to the 1920s.
JFK on Marx—And We Don't Mean Groucho
Senator John F. Kennedy comments on the newspaperman and economist Karl Marx before the Overseas Press Club on May 31, 1957.
Famous Folkie
Huddie "Leadbelly" Ledbetter was a regular on WNYC in the 1940s. Here he sings for the 2nd annual WNYC American Music Festival on February 14, 1941.
From the Frontlines
A sample of the WNYC news reporting on the war in Korea, July 9, 1950.
The Evils of Radio
In 1947 members of the United Parents Association got together for a discussion about radio programs that are a bit too over-the-top for children.
Lower East Side Story
Mayor La Guardia introduces President Roosevelt on a campaign swing through New York, October 28, 1940.
Drug Drama
In the 1950s, the New York State Health Department presented a series of dramas. This one, "Turning the Corner" was about drug addiction.
The Sultan of Sewage
On September 21, 1946 Public Works Commissioner John Splain reveals the wonders of water purification.
Literary Lion
Langston Hughes comments on one of his experiences with editors during a panel discussion called "The Writer's Position in American" on June 23, 1957.
All the News that's Fit to Hear
Mayor F.H. La Guardia reads from Little Orphan Annie during the July 1945 newspaper strike.
The Oldest Surviving WNYC Broadcast
WNYC's first announcer, Tommy Cowan is on the scene June 13, 1927 when Mayor Jimmy Walker receives Col. Charles Lindbergh following Lindbergh's return from a record breaking solo flight from New York to Paris.
Thanks to the NYC Municipal Archives for their assistance.