Vernon Reid founded the rock band, Living Colour, in New York City in the mid-1980s, and piloted the group through a remarkable and influential career.  He received two Grammy awards for his guitar work with the band, and in 2003 Rolling Stone magazine ranked him #66 on its list of the 100 Greatest Guitarists of All Time. In addition to Living Colour, Vernon engages in many other musical projects, including Masque, the Yohimbe Brothers, and Free Form Funky Freqs.
A native of Staten Island, Mr. Reid's work as a composer has led him to collaborations with a diverse array of innovative New York City-based performing artists.  His most recent album with Living Colour was 2009's critically-acclaimed The Chair in the Doorway.
Vernon Reid appears in the following: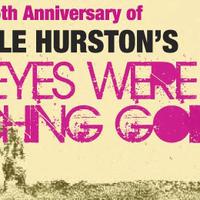 Monday, September 17, 2012
7:00 PM
Award-winning poet and actor Carl Hancock Rux revisits Zora Neale Hurston's celebrated novel "Their Eyes Were Watching God" from the point of view of Janie's love interest, Tea Cake, with an original performance art piece commissioned by The Greene Space. This work will explore Hurston's narrative through a male lens. Following the ...

Friday, February 03, 2012
Like Gary Marcus, Vernon Reid also plays guitar. But he does have a musical gift – since bursting upon the rock scene with the band Living Colour and founding the Black Rock Coalition, he's become one of the living legends of the electric guitar. He joins us along with hip hop artist Akim Funk Buddha to talk about a new version of his WNYC-commissioned multimedia work, "Artificial Afrika."

Thursday, March 10, 2011
A new exhibit at the Metropolitan Museum of Art features about 65 guitars handcrafted by masters living in New York City in the early part of the 20th Century. The show, called "Guitar Heroes,"  embodies America's nascent fascination, and ultimate adoption, of the European acoustic instrument. Jayson Kerr Dobney, associate curator of the Met's Department of Musical Instruments discusses the show.

Friday, September 17, 2010
Guitarist and Rock music innovator Jimi Hendrix died 40 years ago this week in Kensington's Samarkind Hotel, he was 27.
Friday, June 13, 2008
20 years ago, a young black man might be alienated for loving rock more than hip-hop. Today, modern rock acts from Gnarls Barkley to TV on the Radio are populated by African Americans. Joining us to investigate the factors are
Vernon Reid
, founding member of the The Black Rock Coalition ...