Talib Kweli appears in the following:

Friday, April 25, 2014
Talib Kweli made a name for himself in the late '90s as one half of the hip hop duo Black Star, with Mos Def. Since then, Kweli has carried on the tradition of socially conscious hi...

Monday, May 20, 2013
WNYC's Soundcheck presented Brooklyn-based rapper Talib Kweli live in The Greene Space on April 24. Kweli previewed new music from his fifth album, Prisoner of Conscious, coming out this May.
Host John Schaefer asked Kweli about the album's title and the term "conscious hip hop." The title, Kweli said, doesn't refer to his own sense of confinement, but to people's perception of him as an artist.
"When I first started, you just did hip hop," Kweli said. "It wasn't like, okay De La Soul, that's conscious rap and N.W.A is gangster rap. It was like, this is just hip hop. ...People who are very passionate about music like to break music down into sub genres."
On his new album, he challenged himself to go more upbeat and focus on the musicality. "I can't lose focus of my job as an entertainer by making my stuff overtly conscious," Kweli said. "It has to sound good and feel good first." 

Wednesday, April 24, 2013
Brooklyn-based rapper Talib Kweli performs in WNYC's Greene Space.
Read More
Wednesday, April 24, 2013
9:00 PM
See the Brooklyn-based rapper perform in advance of the release of his new album, Prisoner of Conscious. He'll talk with Soundcheck host John Schaefer about the territory between the personal and the political — and his myriad projects. Watch on-demand video here.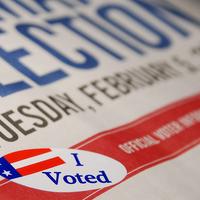 Tuesday, November 8, 2011
7:00 PM
Farai Chideya, WNYC political contributor, and guests from across the ideological spectrum to discussed the themes and tactics that will shape the Presidential election one year from now. Will the election be a referendum on jobs, Wall Street, moral leadership, and taxes?

Friday, September 05, 2008
Before this election, rapper Talib Kweli (like one-third of Americans) didn't vote. But that doesn't mean his music isn't politically engaged. His latest record, Ear Drum, is full of socially conscious lyrics that buck trends in hip hop.

Friday, September 05, 2008

Friday, August 17, 2007

Friday, August 17, 2007
In the mid '90s, Talib Kweli started the duo Black Star with another young New York rapper, Mos Def -- and he's been a strong voice in underground hip-hop ever since. Kweli weighs in on the controversies coursing through the scene.