appears in the following:
Tuesday, November 22, 2016
The octogenarian blues legend proves he can still funk with the best of them in this session.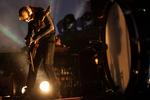 Saturday, November 12, 2016
We've heard a lot and said a lot this week. Get some soothing relief with this playlist of instrumental tracks.
Wednesday, November 09, 2016
Producer Ian Brennan joins World Cafe to discuss his return to Malawi, where he's recorded the music of inmates at a maximum-security prison.

Tuesday, November 08, 2016
This election's youngest voters were born in 1998. So were these records, which all turn 18 this year. (Feeling old yet?)

Wednesday, November 02, 2016
"All the technology in the world can't make a DJ with bad taste a good DJ," the sampling pioneer says. In this session, he discusses his latest album, This Mountain Will Fall.
Friday, October 28, 2016
Had enough of "Monster Mash", "Time Warp" and "Thriller"? Get in the Halloween spirit with these alternatives.

Friday, October 28, 2016
For your weekend playlist, new songs by Leonard Cohen, Sting and other boomer artists who, in 2016, are as creative as ever.

Tuesday, October 25, 2016
Despite its name, the Saskatoon trio gives you plenty of space to breathe. You can hear the simplicity and vastness of the Canadian prairies in its new single.

Friday, October 21, 2016
The album, one of the 82-year-old's best, was produced by his son Adam, who joins World Cafe to discuss what it's like to work with a living legend who just happens to be your dad.
Thursday, October 20, 2016
Just in case Dylan never gets around to picking up his Nobel Prize for literature, here are a few possible alternate candidates.

Friday, October 14, 2016
Get to know the Toronto native as she shares stories and songs with David Dye.

Wednesday, October 12, 2016
World Cafe's new contributing host and producer, Talia Schlanger, spotlights music from her mother country.