Pianist Svetlana Smolina, a native of Nizhny-Novgorod, Russia, has performed with orchestras and in recitals worldwide.  Some recent notable European orchestral appearances include performances with Mariinsky Philharmonic at Carnegie Hall, St. Petersburg Philharmonic, Orchestra National de France, Odessa and Nizhny Novgorod Philharmonic. In the United States, Smolina has recently performed with the New York Philharmonic at Avery Fischer, with Pittsburgh Symphony, New Jersey Symphony Orchestra, Toledo Symphony, Florida Philharmonic, Shreveport Symphony, New York Chamber and many other ensembles.
A frequent guest at festivals worldwide, Ms. Smolina has performed at the Salzburg Festival, Hollywood Bowl Festival in Los Angeles, Ravinia Rising Stars Festival in Chicago,  White Nights Festival in St. Petersburg , Maggio Musicale in Florence, Mikkeli Festival, Ruhr Festival, Easter Festival in Moscow, Rotterdam Phillips Gergiev Festival in Holland, International Gilmore Keyboard Festival, Settimane Musicali di Stresa, Maggio Musicali  in Florence , Festivale di Bologna, Michelangeli Festival in Brescia, Pittsburg Symphony Rachmaninoff Festival, Hennessy Artists Series at Hanoi Opera House, Vietnam, Piano Rock Hotel Festival in NYC, Sakharov Festival in Russia , Corfu and Samos festivals in Greece and many others.
Other notable performances include concerts at Royal Covent Garden Opera, Mariinsky 3 Concert Hall, Tchaikovsky Moscow Conservatory Hall,  Kravis Center in West Palm Beach, Lincoln Theater in Miami, NJPAC Hall in New Jersey,  Hill Auditorium in Ann Arbor, Asole Historical  and Opera Theaters in Sarasota, Big Arts of Sanibel Island Series ,Strasbourg Philharmonic, BaselStadtcasino in Basel, Gulbenkian Foundation in Lisbon, Grand Artists Series at the New Israeli Opera in Tel-Aviv, in Academia Santa Cecilia in Rome, Teatro Massimo di Palermo, and at Vienna's Sacher Hall.
 In 2011 Svetlana will  make her debut at Walt Disney  Concert Hall in Los Angeles with Ilpalpiti Orchestra with Maestro Eduard Schmieder and will be giving recitals and chamber concerts  at Ilpalpiti Artists International Music Festival, at  Philadelphia  International Festival, at  Nizhny Novgorod and Sarov Art Festivals, and  work as  collaborative faculty at Mozarteum Summer Academy. 
Recent recordings and broadcasts  include Stravinsky's Les Noces (Valery Gergiev, Conductor; Decca/Phillips), a recording of solo `works for the Chopin Project, a recital with violinist Vadim Repin for Deutsche Grammophone in Berlin and many broadcasts for NPR, BBC, PBS, RAI, Cultura TV and other networks.
Dr. Smolina is DMA graduate from the University of Michigan, a recipient of " New Names" Scholarship program in Russia  and  has been a prizewinner  of many international competitions, including Citta di Senigalia International Piano Competition (Italy), Kingsville International Piano Competition, Wideman Piano Competition and the Murray Dranoff International Duo Piano Competition in Miami, Florida. Svetlana's principal teachers include Alexander Toradze, Arthur Greene, Evgeny Mogilevsky, Monique Duphil.
Svetlana Smolina appears in the following: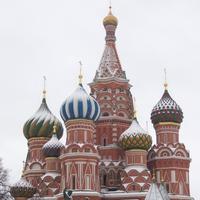 Tuesday, April 26, 2011
7:00 PM
Hear Igor Belov and Ksenia Shcherbino, two of Russia's young, rising literary talents, read from their latest works and delight in exquisite musicianship of pianist Svetlana Smolina. A conversation about the global impact of Russian culture will follow.