Samuel R. Thomas, ethnomusicologist and bandleader, has been forging an artist/scholar model for ten years. Drawing upon the rich repertoire of piyyutim for textual inspiration, as well as the plethora of musical traditions found throughout the Middle East and North Africa, Thomas' work as a performer and composer centers on reinvigoration and reinvention. As an ethnographer and ethnomusicologist, Thomas works within the Brooklyn Sephardic community, researching and interpreting the translocal effects on identity construction from such musical practices for members from different sub-ethnic, Sephardic groups.
Samuel R. Thomas appears in the following: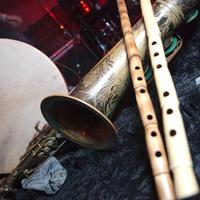 Thursday, March 31, 2011
7:00 PM
Join Leonard Lopate, ethnomusicologist and bandleader Samuel R. Thomas and voices from within the Brooklyn Sephardic community for an exploration of Sephardic sacred poems through live musical performance and conversation.
Friday, February 29, 2008
Many Americans aren't familiar with the rich tradition of Arab music. The upcoming Brooklyn Maqam Arab music festival is trying to change that, with a lineup of local musicians playing in the traditions of countries like Egypt, Yemen and Tunisia. It runs March 2-30, at locations around the city.
Dr. ...