Michel Nischan is a two-time James Beard Foundation Award winner and chef/owner of Dressing Room in Westport, Connecticut.
A son of displaced farmers, Nischan grew up with a deep appreciation for sustainable agriculture and those who work the land. As a professional chef and advocate for a more healthful, organic and sustainable food future, he has built on those childhood values and become a catalyst for change and new initiatives in local and regional food systems. Nischan's latest cookbook, Sustainably Delicious, was released in April 2010.
Michel Nischan appears in the following: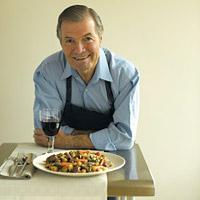 Tuesday, June 15, 2010
7:00 PM
Chefs Jacques Pépin and Michel Nischan go head-to-head in cook-off with only a hot plate and elementary cooking equipment, judged by Lidia Bastianich and complemented with a blind wine tasting with sommelier Aldo Sohm and live performance by the Eroica Trio.