Michael Tilson Thomas celebrates his 17th season as music director of the San Francisco Symphony during the orchestra's 2011-12 Centennial Season. He and the orchestra have been praised by critics for innovative programming and for bringing the works of American composers to the fore, and have brought new audiences into Davies Symphony Hall.
In his inaugural season as music director in 1995, Tilson Thomas included an American work on nearly every one of his San Francisco Symphony programs, and ended the season with An American Festival, a groundbreaking two-week celebration of American music. In 2000, Tilson Thomas and the San Francisco Symphony presented a landmark 12-concert American Mavericks Festival, a celebration of America's maverick musical heritage of the 20th century.
Also noted for his work as a composer, Tilson Thomas has given world premieres of many of his works with the San Francisco Symphony. In 1999, he conducted the SFS in the first orchestral version of Three Songs to Poems by Walt Whitman, and in 2001, Renée Fleming and the SFS premiered his song cycle Poems of Emily Dickinson. In 2002, Tilson Thomas led the SFS in the world premiere of his contrabassoon concerto Urban Legend, with SFS contrabassoonist Steven Braunstein as soloist. In 2005, the SFS and Tilson Thomas performed his Island Music, dedicated to the memory of Lou Harrison. His composition Shówa/Shoáh was written in commemoration of the 50th anniversary of the bombing of Hiroshima.
Noted for his commitment to music education, Tilson Thomas regularly leads the orchestra in education concerts, which the San Francisco Symphony has been providing for its community since 1919. He led the television broadcasts of the New York Philharmonic's famed Young People's Concerts from 1971 to 1977. He is founder and artistic director of America's Orchestral Academy, the New World Symphony in Miami, and has led both YouTube Symphony Orchestra programs in Carnegie Hall and in Sydney Australia.
Tilson Thomas's many honors include the National Medal of Arts, the highest award given to artists by the U.S. government, presented by President Barack Obama in February 2010.
Michael Tilson Thomas appears in the following:

Monday, March 26, 2012
Conductor Michael Tilson Thomas was on the Lopate Show to discuss the American Mavericks series. He also told us about his love of James Brown!
Monday, March 26, 2012
Michael Tilson Thomas, Music Director of the San Francisco Symphony, Founder and Artistic Director of the New World Symphony and Principal Guest Conductor of the London Symphony Orchestra, discusses "American Mavericks," celebrating the work of maverick composers, including John Cage, Edgard Varèse, John Adams, Steve Mackey, Morton Feldman, Steve Reich, Charles Ives, Meredith Monk, Mason Bates, and more. The series includes performances by Michael Tilson Thomas and the San Francisco Symphony—along with Jessye Norman and Emanuel Ax, and a new breed of musical interpreters, including Alarm Will Sound, So Percussion, Matmos, Joan La Barbara, Jennifer Koh, Lisa Moore, JACK Quartet, and Jeremy Denk. Michael Tilson Thomas and the San Francisco Symphony will be performing at Carnegie Hall.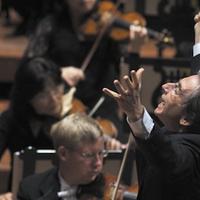 Monday, March 26, 2012
7:00 PM
Q2 Music celebrated America's great iconoclastic composers when San Francisco Symphony music director Michael Tilson Thomas brought his "American Mavericks" tour to New York. In anticipation of their Carnegie Hall concerts, composer John Adams and Meredith Monk, the St. Lawrence String Quartet, pianist Jeremy Denk, and other guests joined Tilson Thomas ...

Saturday, October 23, 2004
Michael Tilson Thomas leads the San Francisco Symphony, which has been acclaimed for innovative concerts and programming. Tilson Thomas often conducts children's concerts with the orchestra — and has developed an unusual approach to engaging his young audience.
Saturday, May 29, 2004
In the 1950's and 60's, Leonard Bernstein introduced thousands of kids to classical music with his innovative and entertaining Young People's concerts. In the 1970's, Bernstein passed the Young People's baton to his protégé, Michael Tilson Thomas. Today, Tilson Thomas leads the San Francisco Symphony, where he often performs children's ...