Micah Sifry appears in the following:

Thursday, February 09, 2017
A look at the political calculations that cost Democrats a grassroots movement that brought Barack Obama to the White House. 

Tuesday, August 07, 2012
Micah Sifry, co-founder of Tech President, discusses how the last election was all about social media, and this year's election is all about gathering data.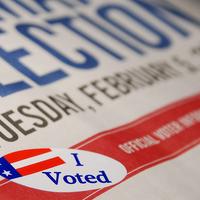 Tuesday, November 8, 2011
7:00 PM
Farai Chideya, WNYC political contributor, and guests from across the ideological spectrum to discussed the themes and tactics that will shape the Presidential election one year from now. Will the election be a referendum on jobs, Wall Street, moral leadership, and taxes?
Monday, September 20, 2010
Today kicks off the Brian Lehrer Show's 30 Issues in 30 Days series. Listeners call in and share their issues for the upcoming election season and, Micah Sifry talks about how those issues fit into his 10 Questions project.

Thursday, May 13, 2010
In Great Britain this week, a center-left political party — the Liberal Democrats — played the power broker in recent elections, teaming up with new PM David Cameron's Conservative Party to create the first coalition government in Britain in 70 years. Could a third party ever play kingmaker here, in the United States?
A new NBC/WSJ poll suggests that many people wouldn't object: More than 80 percent see problems with America's two-party system, and nearly one third of the country believes that America needs a third party.
Thursday, August 21, 2008
Thursday, November 29, 2007
WNYC's political director
Andrea Bernstein
and
Micah Sifry
, co-founder of Personal Democracy Forum and the editor of
Techpresident.com
play excerpts and discuss last night's CNN/YouTube Republican Debate.
Michael Weitz
, one of the YouTube questioners drops in. What did you think?
--Who won the debate and why? ...
Monday, August 06, 2007
Gina Cooper
, founder of the
YearlyKos
convention, and executive director of Net Roots Nation,
Micah Sifry
, co-founder of
techPresident
, and
Gabriel Paneck
, a high school student who attended the Kos, provide us an overview of the YearlyKos, the annual convention for liberal bloggers and political activists.