Maria Popova appears in the following:

Tuesday, September 27, 2016
Watch our celebration of The Golden Record's 40th anniversary with Studio 360's Kurt Andersen, writer Maria Popova, Science Friday's Ira Flatow and WQXR's Terrance McKnight.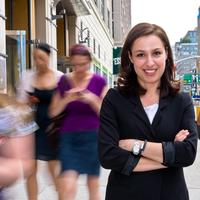 Wednesday, January 14, 2015
7:00 PM
Wed, Jan. 14 | SOLD OUT. Join New Tech City for a digital detox that will help you reclaim the time you spend on your phone and use it to rediscover the creative benefits of boredom.

Wednesday, September 17, 2014
How should you read? Paper or screen? Your brain wants to choose one. Switching back and forth may not be effective. That is, unless you can develop your 'bi-literate' brain. 

Thursday, September 13, 2012
Here on Soundcheck, we spend a lot of time picking apart creativity. Where does it come from? How do you harness it? How important is inspiration, how important is perspiration? We're not the only ones. Writer Maria Popova spends her days contemplating the why and how of creativity, and shares what she finds via her website Brain Pickings. Today, she tells us about the creative philosophy that links Russian composer Pyotr Ilyich Tchaikovsky and Jack White.



Friday, March 23, 2012
One of the greatest assets of the internet is that it leads to great content discoveries that readers might not otherwise be able to find. One of the biggest liabilities is that content is frequently repackaged without crediting its creators or where it was found. Brooke talks to Maria Popova, editor of the website Brain Pickings and one of the creators of the Curator's Code, which seeks to honor the way people discover content online.