Marcus Samuelsson appears in the following:

Monday, January 09, 2017
Award-winning chef & restaurateur Marcus Samuelsson reflects on Harlem's history & shares recipes from his cookbook The Red Rooster Cookbook: The Story of Food and Hustle in Harlem.

Friday, January 29, 2016
Todd Kliman and award-winning chef Marcus Samuelsson discuss how racial segregation affects restaurants.

Tuesday, October 20, 2015
The acclaimed chef spoke with Leonard Lopate about how his exploration of his Ethiopian roots has influenced his cooking today and shared a recipe for kitfo, an Ethiopian steak tartar.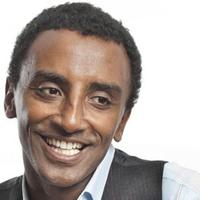 Wednesday, October 7, 2015
7:00 PM
Wed, Oct 7 | The acclaimed chef joins WNYC host and three-time James Beard Award winner Leonard Lopate to kick off his annual food series, focusing this season on cuisines from around the world.

Tuesday, November 11, 2014
The recipes he makes for family and friends in his home kitchen mix Ethiopian, Swedish, Mexican, Caribbean, Italian, and Southern soul.
Friday, April 12, 2013
Gabrielle Hamilton, chef/owner of Prune; Marcus Samuelsson, chef/owner of Red Rooster; and Andrew Carmellini chef/owner of The Dutch and Locanda Verde, talk about what it takes to ope...

Monday, June 25, 2012
Marcus Samuelsson, James Beard Award-winning chef, owner of Red Rooster in Harlem and the author of Yes, Chef: A Memoir, talks about his life as an Ethiopian-born, Sweden-reared, New York City-based chef.
EVENT: Join Samuelsson tonight, June 25th, at his book launch event, Yes, Chef Harlem Community Day, from 3:00 pm until 7:00 pm. You can find more information about the free event here and information about his other upcoming events at his website.
Friday, November 23, 2007