Joyce Carol Oates appears in the following:

Wednesday, October 14, 2015
Novelist Joyce Carol Oates told us that when it comes to theater, she (unsurprisingly) recommends Greek Tragedy.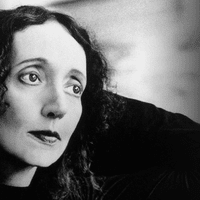 Thursday, July 23, 2015
7:00 PM
Thurs, July 23 | WNYC's Leonard Lopate hosts this exploration of the hazy intersection between literature and music with Joyce Carol Oates and songwriter/novelist Ben Arthur. 

Friday, February 06, 2015
The prolific and acclaimed novelist Joyce Carol Oates has a new book out, and the plot and characters beat a strong-resemblance to the real-life Tawana Brawley story.

Monday, January 07, 2013
Joyce Carol Oates has been called one of the most quintessentially American writers. She's also one of the most prolific, with more than 70 books to her name. The Leonard Lopate Show ...
Monday, February 21, 2011
Joyce Carol Oates discusses her new memoir, A Widow's Story, about coming to terms with her husband's sudden death and coping with the reality of widowhood, for which she was totally unprepared. 
Tuesday, September 29, 2009
Bestselling author Joyce Carol Oates on her latest novel, Little Bird of Heaven, a dark, romantic, tale, set in the Great Lakes region of upstate New York, the same setting of her previous novels We Were the Mulvaneys and The Gravedigger's Daughter.

Friday, June 22, 2007
Joyce Carol Oates' new novel, her 36th, is called The Gravedigger's Daughter. It's an imagined account of her own grandmother's life. Oates knew her great-grandparents ...