Josh Radnor appears in the following:

Tuesday, December 20, 2016
Playwright Richard Greenberg, along with actors Josh Radnor and Elizabeth Reaser on "The Babylon Line," playing through January 22nd at the Lincoln Center Theater.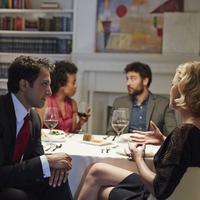 Thursday, September 18, 2014
7:00 PM
Thurs, Sept. 18 | Join host Leonard Lopate to get an inside look at the Pulitzer-winning play with playwright Ayad Akhtar and actors Josh Radnor, Karen Pittman, and Hari Dhillon.
Monday, September 10, 2012
Actors Elizabeth Olsen and Josh Radnor talk about the new film "Liberal Arts," which Radnor wrote, directed, and stars in. It's a lighthearted comedy, 30-something New Yorker Jesse visits his university, hoping recapture the glory days of his youth. When he meets the free-spirited, 19-year-old Zibby Jesse must decide whether to act on his feelings. "Liberal Arts" opens September 14 at the Landmark and IFC Center.

Friday, March 04, 2011
You may know Josh Radnor best as the "I" of the Emmy-award winning TV show "How I met your Mother." But Radnor is also a director and writer, and today, his debut film "Happythankyoumoreplease" hits theatres, in limited release. The film centers on a young man named Sam, played by Radnor, and on his friends, all of whom are trying to figure out how to grow up and find love. But Sam's journey takes an unexpected twist when a little boy named Rasheen decides to follow him home one day, and Sam decides to keep him. Radnor talks about his new film and about making the transition from small screen to silver screen.