Joan Nathan appears in the following:

Thursday, October 16, 2014
In part two of his annual Lopate and Locavores food series, Leonard and food writers Joan Nathan and Arthur Schwartz took us through a delicious history of the city's iconic delis.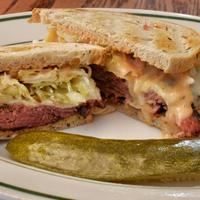 Wednesday, October 15, 2014
7:00 PM
Wed, Oct. 15 | WNYC's Leonard Lopate looks at the history of NYC's iconic delis with authors and food writers Arthur Schwartz and Joan Nathan. A live video webcast will be available.
Thursday, December 16, 2010
Wednesday, December 09, 2009
Hanukkah begins Friday. For this week's food segment, New York Times food writer Joan Nathan guides us on how to make Jewish food if you're new to the family and come from a different...