Jim Lahey is a chef, baker and restaurant owner of the Sullivan Street Bakery and Co. Pizzeria. Jim studied sculpting at SUNY Stonybrook and the School of Visual Arts until he went to Italy to work and study with native Italian bakers. He is the author of his book, "My Bread: The Revolutionary No-Work, No-Knead Method", as well as the radical article featured in Mark Bittman's column, The Minimalist, that sparked a worldwide home baking revolution. 
Jim Lahey appears in the following:

Friday, November 10, 2017
James Beard Award-winning baker Jim Lahey joins us to discuss his new book "The Sullivan Street Bakery Cookbook."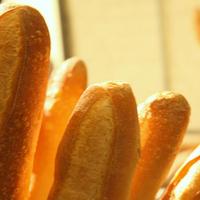 Wednesday, October 5, 2011
7:00 PM
Founder of the Hot Bread Kitchen Jessamyn Waldman, chef and owner of Pizza a Casa Pizza School Mark Bello, and owner of the Sullivan St. Bakery Jim Lahey joined Leonard Lopate to discuss the art of baking bread and more.
Wednesday, February 10, 2010
Monday, February 11, 2008
People used to shy away from baking their own bread. But not anymore, since
Jim Lahey
, owner of
Sullivan Street Bakery
"rediscovered" no-knead bread. He talks about why his kneading days are behind him--and returning bread making to the masses.
Watch Jim Lahey and Mark Bittman ...