Jason Moran appears in the following:

Tuesday, January 07, 2014
Composer and multi-instrumentalist Henry Threadgill and pianist Jason Moran talk about the 10th anniversary of Winter Jazzfest. Threadgill makes his debut appearance at the 2014 NYC Winter Jazzfest with the world premiere of his Ensemble Double-Up on Saturday, January 11, at the historic Judson Church. Led by Threadgill, the ensemble features featuring pianists Moran and David Virelles, Curtis McDonald and Roman Filiu on altos, Christopher Hoffman on cello, Jose Davila on tuba and Craig Weinrib on trap drums. They'll perform "Old Locks and Irregular Verbs", written to honor Threadgill's dear friend and WJF esteemed past festival participant, Lawrence D. "Butch" Morris.
Artist Stan Douglas and Jason Moran have collaborated on a new film installation "Luanda Kinshasa" at David Zwirner gallery January 9-February 22.
Thursday, May 12, 2011
Pianist Jason Moran talks about the upcoming tribute concert to Fats Waller, "The Fats Waller Dance Party." Moran and Meshell Ndegeocello, along with a full band, re-envision Waller's historic music into a contemporary dance event, which is part of the Harlem Stride and Uptown Nights at Harlem Stage series. "The Fats Waller Dance Party" takes place May 13-14 at the Harlem Stage Gatehouse.

Tuesday, January 18, 2011
In a 50-year career, sax player Charles Lloyd has done it all. Played in Cannonball Adderley's band. Led his own groups with sidemen like Keith Jarrett and Herbie Hancock. Had a surprise crossover rock moment in the 60s and pioneered world music in the 70s.
Friday, July 02, 2010
Jason Moran performs the track from his album, Ten, live in Studio 360.

Friday, July 02, 2010
Pianist Jason Moran tells Kurt how he's always drawn inspiration from unlikely sources, from avant-garde and hip-hop to modern painting and rural quilts. Moran also performs songs from his new album, Ten, live in the studio.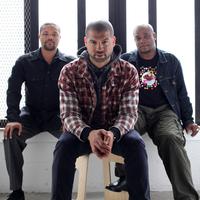 Monday, June 21, 2010
2:00 PM
Bobby McFerrin and Jason Moran & The Bandwagon join Soundcheck for live performances.

Monday, July 13, 2009
The Transition Project tracks the introspective thoughts of WNYC staff on the pivotal move from New York Public Radio's long-time home at the historic Municipal Building to the newly renovated and eco-modern offices at 160 Varick Street. Compiling extensive interview clips with ambient sounds, the Transition Project reveals the experiences, musings, anecdotes, and first impressions of the WNYC staff.
Wednesday, February 25, 2009
Pianist/composer
Jason Moran
joins us along with trumpet wizard and virtuoso arranger
Charles Tolliver
to mark the 50th anniversary of Thelonious Monk's Town Hall concert, the first time his music was performed by a big band. Jason Moran will be performing in studio along with his band.
Events:
The Charles ...

Saturday, December 21, 2002
We've gone a little Christmas crazy.