Hailed as a prodigy on the acoustic double bass within months of first touching the instrument as a 15-year-old, Esperanza Spalding has emerged as a fine jazz bassist, but has also distinguished herself playing blues, funk, hip-hop, pop fusion, and Brazilian and Afro-Cuban styles as well.
Esperanza Spalding was born in Portland, OR in 1984, Spalding was not well served by the public school system and soon dropped out of classes to be home schooled. Returning to the public school system at 15, she encountered her first acoustic bass (she had already been playing violin for several years) and immediately took to the instrument. Dropping out of school again, Spalding enrolled in classes at Portland State University as a 16-year-old, and earned her B.A. in just three years and was immediately hired as an instructor in the prestigious Berklee College of Music in Boston in the spring of 2005. Now 25, she has been working at Berklee for the past five years.
After touring and playing with a whole host of artists, including Joe Lovano, Patti Austin, Michel Camilo, Charlie Haden, Regina Carter, Pat Metheny, Dave Samuels, and a host of others, in addition to heading her own jazz trio, Spalding recorded and released Junjo on the Barcelona-based AYVA imprint in 2006, following it with the simply named Esperanza on Heads Up Records in 2008. ~ Steve Leggett, All Music Guide
Spalding has played for President Obama three times, including a requested performance at the Nobel Peace Prize Ceremony in Oslo, Norway.
Esperanza Spalding appears in the following:

Tuesday, September 28, 2021
Esperanza Spalding joins us for a Listening Party for her new album 'Songwrights Apothecary Lab.'

Tuesday, May 14, 2019
Musician Esperanza Spalding discusses her album, "12 Little Spells."

Monday, September 11, 2017
The Grammy-winner's latest album is a fully improvisational experience. Over three days, she'll stream a 77-hour creative session on Facebook starting tomorrow at 9:00 AM Pacific time.

Wednesday, March 02, 2016
Grammy winner and renowned jazz musician Esperanza Spalding talks about her new album, "Emily's D+Evolution" out on March 4th.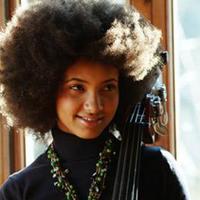 Monday, June 21, 2010
7:00 PM
Join us for a night of jazz, talk and wine, as host Elliott Forrest presents Esperanza Spalding and Anat Cohen with performances and a conversation.

Tuesday, October 07, 2008
Jazz bassist and singer
Esperanza Spalding
has always been precocious. She started playing the club scene Portland, Ore., as a teenager. When she was 20, she became the youngest faculty member ever at Berklee College of Music in Boston. And now at 23, after playing with jazz giants like Herbie ...

Tuesday, October 07, 2008
MySpace Music, the new online music service from MySpace.com, lets you stream millions of songs for free, share playlists, and download MP3s. But critics complain that the site is hopelessly cluttered and that independent labels are being shut out. Today: a Soundcheck Smackdown on the merits of MySpace Music. Also: ...