David Isay appears in the following:

Wednesday, November 21, 2018
David Isay helps you avoid Thanksgiving shouting matches.

Thursday, October 18, 2018
StoryCorps founder David Isay discusses an exciting new project.

Tuesday, November 24, 2015
StoryCorps is launching a national assignment called "The Great Thanksgiving Listen," in the hopes of doubling its archive with students' interviews of their family members.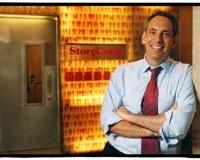 Wednesday, February 15, 2012
6:30 PM
Join Leonard Lopate for An Evening with Dave Isay, to discuss his new book, "All There Is: Love Stories From StoryCorps." We'll listen together to excerpts from the oral history project and talk to couples who participated and share your stories.
Saturday, April 07, 2001
Kurt Andersen and award-winning radio producer David Isay talk about the art of preservation.
Saturday, February 03, 2001
We find out how a painter scooped a scientist in a major discovery about perception, and figure out why a stop sign has eight sides. And Kurt Andersen talks with radio producer David Isay about the art of preservation, with stories about rescuing sacred music and restoring modern sculpture made ...