Colson Whitehead appears in the following:

Thursday, October 27, 2016
How did a highbrow MacArthur genius end up writing a book about zombies?

Tuesday, May 27, 2014
That's how Colson Whitehead describes his new book, in which he searches for meaning at high-stakes poker tables.

Friday, November 25, 2011
Colson Whitehead is one of America's most respected novelists, the author of The Intuitionist and Sag Harbor and a MacArthur 'genius.' But his new book goes pretty lowbrow. Zone One ...

Thursday, November 10, 2011
Writer Colson Whitehead was on the Lopate Show recently to discuss his latest novel, Zero One, and he told us what he's been reading recently.
Thursday, November 10, 2011
Colson Whitehead talks about his new novel, Zone One, a wry take on the post-apocalyptic horror novel about zombies. A pandemic has devastated the planet, leaving behind the uninfected and the infected, the living and the living dead. Now the plague is receding, and Americans are rebuild­ing civilization, focusing on resettling Manhattan. Armed forces have successfully reclaimed the island south of Canal Street—Zone One—but pockets of plague-ridden squatters remain.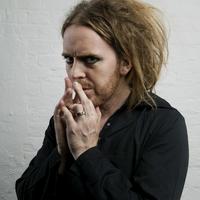 Wednesday, November 9, 2011
7:00 PM
Join Kurt Andersen for a night of comedy, music and storytelling, featuring novelist Colson Whitehead, raconteur Cintra Wilson, and musical comedian Tim Minchin, an Australian phenomenon about to break out in America.
Wednesday, April 29, 2009
In his autobiographical fourth novel
Sag Harbor
,
Colson Whitehead
explores the desperate adolescent quest for reinvention and the elusive nature of identity at an elite Manhattan prep school in 1985.
Events: Colson Whitehead will be reading and signing books
Wednesday, April 29, at 7:00 pm
Barnes & Noble, ...
Friday, April 25, 2008
Recent New York Times op-ed contributor
Colson Whitehead
talks about how public perceptions of race influence voter choice for the next president.
OPEN PHONES: We want to hear from you.

Friday, April 28, 2006
The hero of Colson Whitehead's new novel Apex Hides the Hurt is an advertising executive with a natural gift for branding new products

Friday, April 28, 2006
Kurt Andersen talks with novelist Colson Whitehead about the power of names and why he wanted the hero of his book to be an expert in product branding. We'll hear from a filmmaker whose colossal self-absorption is actually fun to watch on screen. And Kurt talks with a listener who was inspired by Bruce Springsteen's "Born to Run" to quit his job – and join the Army.