Carl Safina is the president and co-founder of the Blue Ocean Institute and author of over one hundred publications including award winning books Song for the Blue Ocean and Eye of the Albatross, as well as, Voyage of the Turtle, Nina Delmar: The Great Whale Rescue and The View From Lazy Point: A Natural Year in an Unnatural World. His writing has been awarded honors such as: New York Times Notable Book of the Year, Los Angeles Times "Best Nonfiction," Library Journal's "Best Science Book," Lannan Literary Award, John Burroughs Medal, the National Academies' "Year's Best Book for communicating science."
He is a prominent ecologist and marine conservationist. He also works as an adjunct professor at Stony Brook University. Safina is a recipient of the Pew Scholar's Award in Conservation and the Environment, Chicago's Brookfield Zoo's Rabb Medal, and a MacArthur prize, among many other honors. Safina's new TV series, Saving the Ocean,premiered on PBS in April 2011.
Carl Safina appears in the following:

Monday, July 13, 2015
Lessons from Kenya to Yellowstone about how non-humans experience joy, grief, jealousy, anger, and love.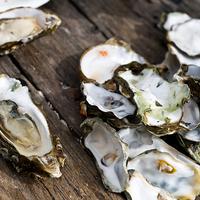 Wednesday, October 12, 2011
7:00 PM
Founder of the Blue Ocean Institute and author Carl Safina, co-owner of Le Bernadin Eric Ripert, oyster raiser Karen Rivara join Leonard Lopate to shuck oysters and discuss sustainable seafood.
Monday, January 24, 2011
MacArthur fellow Carl Safina argues that environmental problems affect matters of human justice, well-being, and our prospects for peace, and looks at the ways our world is changing and how we should respond.  In The View from Lazy Point: A Natural Year in the Unnatural World, he takes us through the four seasons to the four points of the compass, and from the high Arctic to Antarctica, from the Caribbean to the west Pacific.
Friday, June 29, 2007
Atlantic bluefin tuna has been so overfished that some sushi chefs are looking at unusual alternatives. We'll find out whether deer and horsemeat might turn up in sushi anytimes soon. Leonard talks to ecologist
Carl Safina
of the
Blue Ocean Institute
.