Ben Rubin is a multi-media artist whose major public artworks include San Jose Semaphore for the city of San Jose, California, Four Stories for the Minneapolis Public Library, and Moveable Type, a public art installation commissioned for the lobby of the New York Times building.
Based in New York, he has collaborated with numerous artists, including: Laurie Anderson, Diller+Scofidio, Ann Hamilton, Arto Lindsay, Steve Reich, and Beryl Korot. In 2004, Mr. Rubin was appointed critic in graphic design at Yale University, where he currently teaches.
For more information, see Ben Rudin's bio from the Ear Studio.
Ben Rubin appears in the following:

Wednesday, December 22, 2010
Where many journalists and policy makers see stark data in the new census numbers, some see the potential for art. Sound artist Ben Rubin and UCLA statistics professor Mark Hansen are best known for creating digital poetry out of the printed word for their installation at The New York Times building. The pair culled text and images from the Times archive — stretching back almost one hundred and sixty five years — and replicated them onto 560 small screens that welcome visitors to The New York Times lobby.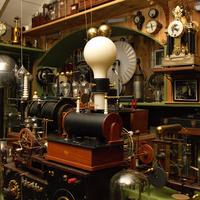 Wednesday, April 14, 2010
7:00 PM
Radiolab hosts Jad Abumrad and Robert Krulwich present a series of evening events in The Greene Space designed to tickle the mind and surprise the eyes.

Tuesday, May 29, 2007
The strange, subjective nature of time -- from a sped-up spin through childhood, to a really, really slowed-down Beethoven symphony.