Ayad Akhtar appears in the following:

Friday, November 03, 2017
In his new play, "Junk," Pulitzer Prize-winner author Ayad Ahktar explores the moment in the 1980s when finance and debt came to define capitalism and our way of life.

Monday, February 29, 2016
Mon, Feb 29, watch a live video stream of our conversation on Muslim identity, faith and culture in America and abroad. WNYC's Arun Venugopal hosts.

Tuesday, January 20, 2015
Pulitzer Prize winner Ayad Akhtar on moving 'Disgraced' from Lincoln Center to Broadway, in discussion with Aasif Mandvi

Monday, December 08, 2014
Pulitzer Prize-winning playwright Ayad Akhtar discusses his new play "The Invisible Hand," about an American stock broker, into a world of kidnapping and torture in Pakistan. 

Friday, October 17, 2014
Opening next week is "Disgraced," a new Broadway play that centers on two couples grappling over issues of faith, family and the politics of both.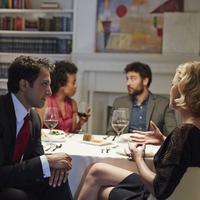 Thursday, September 18, 2014
7:00 PM
Thurs, Sept. 18 | Join host Leonard Lopate to get an inside look at the Pulitzer-winning play with playwright Ayad Akhtar and actors Josh Radnor, Karen Pittman, and Hari Dhillon.

Friday, September 12, 2014
The playwright talks about the process of writing "Disgraced" and its upcoming Broadway premiere. 

Tuesday, July 15, 2014
"The Who & the What," a new play about a Pakistani-American writer whose new novel threatens to tear her family apart.

Tuesday, July 23, 2013
Ayad Akhtar's novel American Dervish is our pick for the July Leonard Lopate Show Book Club! It's a coming-of-age novel about Muslims in America that follows a young man named Hayat who has a romantic and spiritual awakening as he's growing up in Milwaukee, Wisconsin. Ayad Akhtar won the Pulitzer Prize this year for his play "Disgraced," and American Dervish is his debut novel. We hope you've been reading the book along with us. Leave your comments and questions!
Friday, November 16, 2012
Playwright Ayad Akhtar talks about the play "Disgraced," along with actor Aasif Mandvi, who plays the lead role. The play tells is the story of a successful Pakistani-American lawyer who is moving up the corporate ladder while distancing himself from his cultural roots. When he and his wife Emily, a white artist influenced by Islamic paintings, host a dinner party, what starts out as a friendly conversation escalates into something far more damaging. "Disgraced" is playing at Lincoln Center Theater and has been extended through December 23.