Composer and multi-instrumentalist Angélica Negrón was born in San Juan, Puerto Rico in 1981 and is currently based in New York. Interested in creating intricate yet simple narratives that evoke intangible moments in time, she writes music for accordions, toys and electronics as well as chamber ensembles and orchestras.
Angélica received an early education in piano and violin at the Conservatory of Music of Puerto Rico where she later studied composition under the guidance of composer Alfonso Fuentes. Her music has been performed by Iktus Percussion Quartet, Astoria Symphony Orchestra, TRANSIT ensemble, janus trio, Cadillac Moon Ensemble, NYU Symphony Orchestra and the Puerto Rico Symphony Orchestra and she has written music for documentaries, films, theater and modern dance. She frequently collaborates with the experimental theater company from Puerto Rico Y No Había Luz writing music for their plays, which often incorporate puppets, masks and unusual objects.
A long time member of the Puerto Rican underground music scene, Angélica is a founding member of the electro-acoustic pop outfit Balún where she sings and plays the accordion and violin. With her project Arturo en el Barco she concentrates on working with lo-fi ambient compositions and has released albums on Observatory (Austria) and Carte Postale Records (Belgium). She has performed in venues such as Mercury Lounge, Monkeytown, Galapagos Art Space, Roulette, The Tank, Glasslands and (Le) Poisson Rouge and in festivals like Pop Montreal 2007 (Montreal), Decibel 2008 (Seattle). Through the process of recontextualization and reappropiation she often incorporates found sounds and field recordings in her music attempting to create a personal microcosm of recollections through sound that accesses reality but at the same time deconstructs it.
Angélica Negrón appears in the following: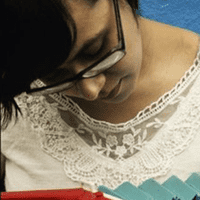 Wednesday, February 1, 2012
7:00 PM
Featuring music and conversation with Jason Treuting, Angélica Negrón, and Jherek Bischoff as well as a conversation with composer and festival curator, Judd Greenstein.

Thursday, October 28, 2010
November's featured composer on Q2 is Angélica Negrón. Capturing fleeting, often over-looked moments of beauty in daily life, she channels them into a style that is wistfully idiosync...