Andrew Carmellini is a chef, restaurateur, author and winner of two James Beard Foundation awards. He is the chef/owner of a collection of acclaimed eateries: TriBeCa's Locanda Verde, The Dutch in SoHo and Miami, Lafayette in NoHo, and Bar Primi on the Bowery. His next restaurant, Little Park, is set to open this fall in TriBeCa's Smyth Hotel. He has written two cookbooks with his wife, Gwen Hyman, including their most recent, Urban Italian. 
Andrew Carmellini appears in the following:

Thursday, October 09, 2014
Leonard Lopate talks with Lidia Bastianich, David Bouley and Andrew Carmellini about the thrills and challenges of building a collection of restaurants in New York City and beyond.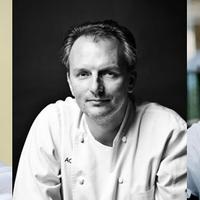 Wednesday, October 8, 2014
7:00 PM
Wed, Oct. 8 | WNYC's Leonard Lopate talks with Lidia Bastianich, Andrew Carmellini and David Bouley. A live video webcast will be available. 
Friday, April 12, 2013
Gabrielle Hamilton, chef/owner of Prune; Marcus Samuelsson, chef/owner of Red Rooster; and Andrew Carmellini chef/owner of The Dutch and Locanda Verde, talk about what it takes to ope...
Tuesday, December 20, 2011
Andrew Carmellini, chef-owner of Locanda Verde and The Dutch, spoke to Leonard Lopate about his most recent cookbook, and he revealed what his favorite comfort food is!
Tuesday, December 20, 2011
Andrew Carmellini, two-time James Beard Award winner, acclaimed author of Urban Italian, and executive chef–owner of the New York City restaurants Locanda Verde and The Dutch, talks about the rich and diverse ingredients and cuisines that constitute American flavor. In his new cookbook American Flavor, Carmellini shares the lessons of his culinary life on the road in recipes and stories that get at the soul of how we eat today.

Tuesday, January 06, 2009
Chef
Andrew Carmellini
gives tips on cooking in small urban apartment kitchens. His new cookbook is
Urban Italian
.
Weigh in: If you're an avid cook, how do you cope with the limitations of small NYC kitchens?