Aldo Sohm is Chef Sommelier at New York City's Le Bernardin, rated four stars by The New York Times.
His extensive accolades include the 2009 James Beard Foundation Award for Outstanding Wine Service, "Best Sommelier in the World" from the Worldwide Sommelier Association, "Best Sommelier in America" from the American Sommelier Association, "Best Sommelier in New York," from New York Magazine, and "Best Sommelier in Austria." Sohm's signature approach to wine combines an infectious enthusiasm with abundant knowledge and no hint of pretension.
Aldo Sohm appears in the following:

Tuesday, December 03, 2019
A new book from sommelier Aldo Sohm. 
Friday, February 19, 2016
Aldo Sohm, wine director of three-Michelin starred Le Bernardin, discusses the finer points of wine buying and tasting.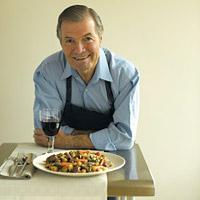 Tuesday, June 15, 2010
7:00 PM
Chefs Jacques Pépin and Michel Nischan go head-to-head in cook-off with only a hot plate and elementary cooking equipment, judged by Lidia Bastianich and complemented with a blind wine tasting with sommelier Aldo Sohm and live performance by the Eroica Trio.

Monday, May 03, 2010
Where to get the "Best Sommelier in the World."