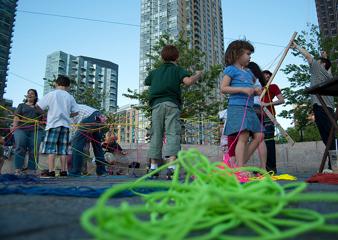 Queens Art Express Block Party 2013
Saturday, June 22, 2013
WNYC is a media partner for Queens Council of the Arts' QAX Block Party, with family friendly interactive activities and a ribbon cutting on 37th Street at the Kaufman Astoria Studio Complex.  Saturday June 22nd 1-6pm.
QCA is hosting a BLOCK PARTY on 37th Street between 34th and 35th Avenues. Enjoy art activities, family fun, and food! Rain or Shine.
---
ARTSTOOPBALL
Attenborough Naftel, an artist duo from Sunnyside, will create an oversized stoop for an all day game of creative stoopball. Sure, you can sit on the stoop and sip lemonade too, or even pose for a picture.
---
DRIP PAINT FISHING
Freestyle Art, an artist team from Long Island City, will provide people with paintbrushes attached to fishing poles to create Jackson Pollack –ish drip paintings.  They will also run Remote Control Canvas, where you can create a drawing with markers or crayons attached to cars zooming around on a large canvas on the street that you control with a remote.  Gentlemen, start your engines.
---
MAKE IT AND TAKE IT
Materials from the Arts, one of our local creative partners, will have a table with all kinds of stuff from their endless warehouse of materials and some artists who will do a hands on activity for families and kids.
---
YOUR SIXTY SECONDS OF FAME
Our High School to Art School students will serve as QCA story ambassadors during the event and rotate as portrait artists creating 60 second charcoal sketches that will be signed and matted.  They will be thrilled to tell you about their experience in this program and the colleges they have been accepted to.  They will also be ready to talk about their aspirations and why they have chosen to pursue a career in the arts.