2010-2013 National Endowment for the Humanities-Funded Preservation Project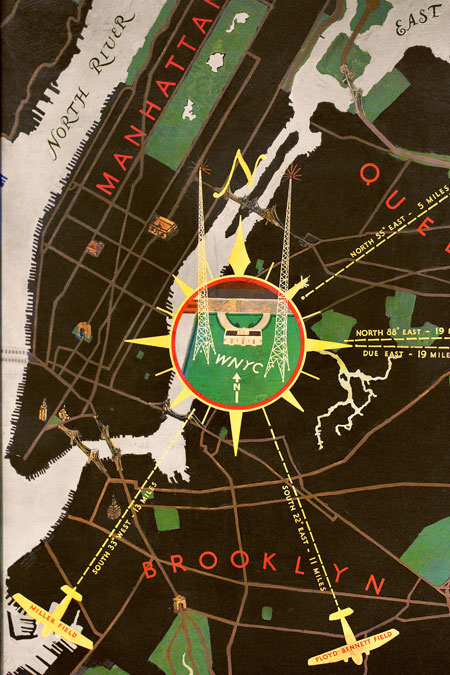 In September 2010, WNYC's Archives and Preservation Department initiated a 2.5 year archival digitization project funded by the National Endowment for the Humanities. Its goal was to reformat 660 hours of choice recordings from the NYC Municipal Archives' WNYC collection found on lacquer disc and open reel tape. We've actually put up about 700 hours of material.
Emily Vinson and Haley Richardson, both graduates of the University of Texas School of Information, digitized these vintage broadcasts at a sampling rate of 96kHz and 24 bits. The resulting broadcast wave files (BWF) are stored in our digital asset management system. Vinson and Richardson created PBCore-compliant catalog records. These records form the basis of the descriptive content used for accessing these materials on the WNYC website.
Our aim was to make WNYC's unedited radio legacy available online for listeners and scholars. The programs include dramas, parades, news conferences, musical performances, and interviews. They were culled from some 13,000 lacquer transcription discs and 10,000 tapes. Processing them involved many hours of cleaning discs, searching card catalogs, deciphering names, consulting authorities, and of course, playing back these legacy formats in real time. Copies of the reformatted items are shared with the New York City Municipal Archives, the New York Public Library, University of Maryland National Public Broadcasting Archives, the CUNY La Guardia and Wagner Archives, and the Library of Congress.

The WNYC Radio Audio Preservation and Access Project is supported by The National Endowment for the Humanities.
Browse through all of our archival programs here.
This project could not be completed without the help of many, many people. The New York Public Radio Archives department would like to thank:
Kenneth Cobb, Leonora Gidlund, Michael Lorenzini, Dwight Johnson, and Gabriel Gervais of New York City Department of Records, Municipal Archives
Katrina Dixon, Danielle Cordovez, and Jonathan Hiam of the New York Public Library for the Performing Arts
Sydney Van Nort of the Archives of the City College of New York, CUNY
Joey Cabrera, Cara McCormick, Beth Saffer, Jennifer Schneider, Lauren Spiro, and Kristin MacDonough
Tom Rayfiel, Charis Conn, Roberta Newman, and Deborah Leiderman
Ed Vinson, Alchemist
Tim Davis, Corbis Images
Fritz Klaetke, Visual Dialogue
Daniel Benamy, Marine Boudeau, Schuyler Duveen, Mike Hearn, Valentina Powers, Bryan Young, Alan Black, Karen Burdick, Rob Christiansen, Gregg Gasperino, Brett Lefferts, Anton Mittag, Ian Peksa of New York Public Radio Digital and Engineering teams
Amy Fitzpatrick, Sarah Gilligan, Erica Sattin, and Alex Villari of New York Public Radio Development
Kathleen Ehrlich, Kate Gardiner, Xana O'Neill, Amy Pearl, and Elizabeth Zagroba of New York Public Radio
Dean Cappello, Senior VP for Programming & CCO for New York Public Radio
Adrian Cosentini, Technical Advisor
David Isay, Dr. Alfred Fried, Dr. Susan Smulyan, Dr. Jason Loviglio, and Dr. Peter Wosh, Project Advisors
Thank you to Ryan Donaldson, who provided the above photograph of Allan Gordan Lorimer's WPA-era painting of the New York City centered around WNYC's transmitter site in Greenpoint, Brooklyn.

This web resource has been made possible in part by the
National Endowment for the Humanities: Exploring the Human Endeavor
Any views, findings, conclusions, recommendations expressed in this web resource do not necessarily reflect those of the National Endowment for the Humanities.